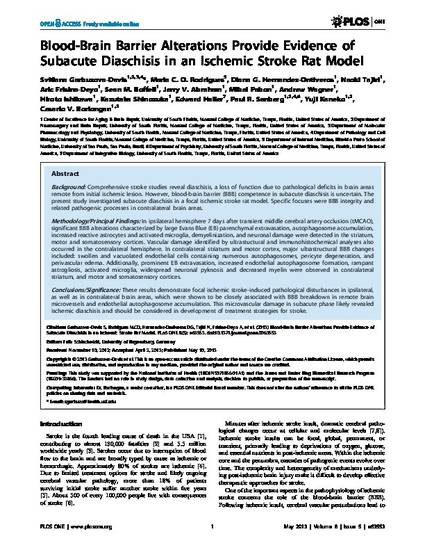 Article
Blood-Brain Barrier Alterations Provide Evidence of Subacute Diaschisis in an Ischemic Stroke Rat Model
PLoS ONE
Publication Date
5-10-2013
Digital Object Identifier (DOI)
http://dx.doi.org/10.1371/journal.pone.0063553
Abstract
Background
Comprehensive stroke studies reveal diaschisis, a loss of function due to pathological deficits in brain areas remote from initial ischemic lesion. However, blood-brain barrier (BBB) competence in subacute diaschisis is uncertain. The present study investigated subacute diaschisis in a focal ischemic stroke rat model. Specific focuses were BBB integrity and related pathogenic processes in contralateral brain areas. Methodology/Principal Findings
In ipsilateral hemisphere 7 days after transient middle cerebral artery occlusion (tMCAO), significant BBB alterations characterized by large Evans Blue (EB) parenchymal extravasation, autophagosome accumulation, increased reactive astrocytes and activated microglia, demyelinization, and neuronal damage were detected in the striatum, motor and somatosensory cortices. Vascular damage identified by ultrastuctural and immunohistochemical analyses also occurred in the contralateral hemisphere. In contralateral striatum and motor cortex, major ultrastructural BBB changes included: swollen and vacuolated endothelial cells containing numerous autophagosomes, pericyte degeneration, and perivascular edema. Additionally, prominent EB extravasation, increased endothelial autophagosome formation, rampant astrogliosis, activated microglia, widespread neuronal pyknosis and decreased myelin were observed in contralateral striatum, and motor and somatosensory cortices. Conclusions/Significance
These results demonstrate focal ischemic stroke-induced pathological disturbances in ipsilateral, as well as in contralateral brain areas, which were shown to be closely associated with BBB breakdown in remote brain microvessels and endothelial autophagosome accumulation. This microvascular damage in subacute phase likely revealed ischemic diaschisis and should be considered in development of treatment strategies for stroke.
Rights Information
Default Rights Statement
Citation / Publisher Attribution
PLOS One, v. 8, issue 5, article e63553, p. 1-15.
Citation Information
Svitlana Garbuzova-Davis, Maria C. O. Rodrigues, Diana G. Hernandez-Ontiveros, Naoki Tajiri, et al.. "Blood-Brain Barrier Alterations Provide Evidence of Subacute Diaschisis in an Ischemic Stroke Rat Model"
PLoS ONE
Vol. 8 Iss. 5 (2013) p. 1 - 15
Available at: http://works.bepress.com/edward_haller/7/