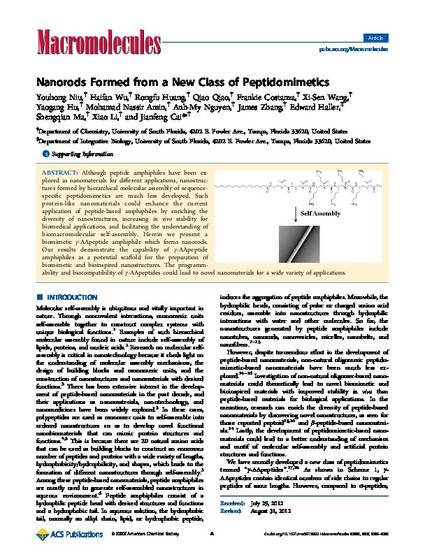 Article
Nanorods Formed from a New Class of Peptidomimetics
Macromolecules
Publication Date
9-7-2012
Digital Object Identifier (DOI)
https://doi.org/10.1021/ma3015992
Abstract
Although peptide amphiphiles have been explored as nanomaterials for different applications, nanostructures formed by hierarchical molecular assembly of sequence-specific peptidomimetics are much less developed. Such protein-like nanomaterials could enhance the current application of peptide-based amphiphiles by enriching the diversity of nanostructures, increasing in vivostability for biomedical applications, and facilitating the understanding of biomacromolecular self-assembly. Herein we present a biomimetic γ-AApeptide amphiphile which forms nanorods. Our results demonstrate the capability of γ-AApeptide amphiphiles as a potential scaffold for the preparation of biomimetic and bioinspired nanostructures. The programmability and biocompatibility of γ-AApeptides could lead to novel nanomaterials for a wide variety of applications.
Citation / Publisher Attribution
Macromolecules, v. 45, issue 18, p. 7350–7355
Citation Information
Youhong Niu, Haifan Wu, Rongfu Huang, Qiao Qiao, et al.. "Nanorods Formed from a New Class of Peptidomimetics"
Macromolecules
Vol. 45 Iss. 18 (2012) p. 7350 - 7355
Available at: http://works.bepress.com/edward_haller/31/