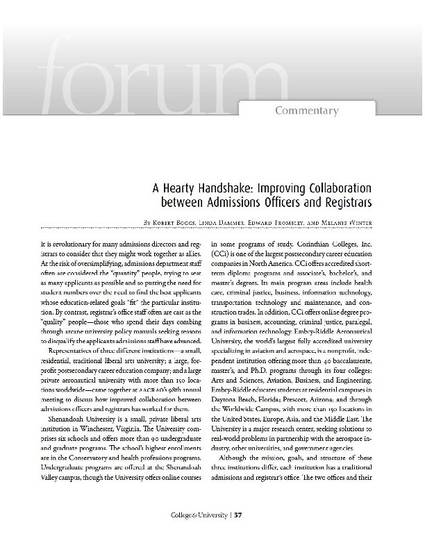 Article
A Hearty Handshake: Improving Collaboration Between Admissions Officers and Registrars
College and University
Submitting Campus
Daytona Beach
Department
Records and Registration
Publication/Presentation Date
7-1-2013
Abstract/Description
It is revolutionary for many admissions directors and registrars to consider that they might work together as allies. At the risk of oversimplifying, admissions department staff often are considered the "quantity" people, trying to seat as many applicants as possible and so putting the need for student numbers over the need to find the best applicants whose education-related goals "fit" the particular institution. By contrast, registrar's office staff often are cast as the "quality" people-those who spend their days combing through arcane university policy manuals seeking reasons to disqualify the applicants admissions staff have advanced.
Publisher
American Association of Collegiate and Admissions Officers
Citation Information
Robert Boggs, Linda Dammer, Edward Trombley and Melanie Winter. "A Hearty Handshake: Improving Collaboration Between Admissions Officers and Registrars"
College and University
Vol. 88 Iss. 4 (2013) p. 57 - 59
Available at: http://works.bepress.com/edward_f_trombley/12/