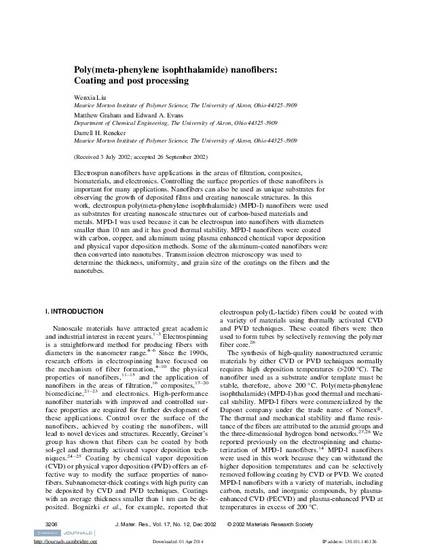 Article
Poly(Meta-phenylene Isophthalamide) Nanofibers: Coating and Post Processing
Journal of Materials Research
Publication Date
12-1-2002
Abstract
Electrospun nanofibers have applications in the areas of filtration, composites; biomaterials, and electronics. Controlling the surface properties of these nanofibers is important for many applications. Nanofibers can also be used as unique substrates for observing the growth of deposited films and creating nanoscale structures. In this work, electrospun poly(meta-phenylene isophthalamide) (MPD-I) nanofibers were used as substrates for creating nanoscale structures out of carbon-based materials and metals. MPD-I was used because it can be electrospun into nanofibers with diameters smaller than 10 nm and it has good thermal stability. MPD-I nanofibers were coated with carbon, copper, and aluminum using plasma enhanced chemical vapor deposition and physical vapor deposition methods. Some of the aluminum-coated nanofibers; were then converted into nanotubes. Transmission electron microscopy was used to 1 determine the thickness, uniformity, and grain size of the coatings on the fibers and the nanotubes.
Citation Information
Wenxia Liu, Matthew Graham, Edward A. Evans and Darrell H. Reneker. "Poly(Meta-phenylene Isophthalamide) Nanofibers: Coating and Post Processing"
Journal of Materials Research
Vol. 17 Iss. 12 (2002) p. 3206 - 3212
Available at: http://works.bepress.com/edward_evans/11/