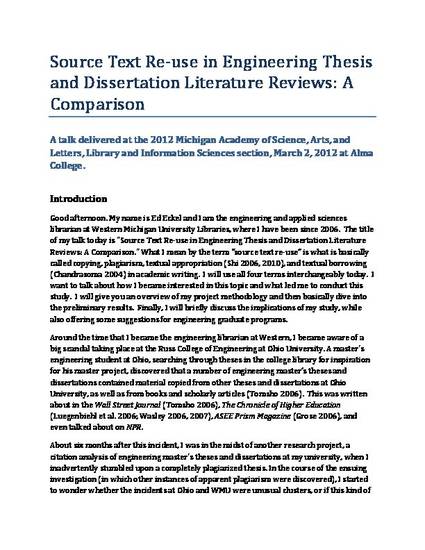 Presentation
Source Text Re-use in Engineering Thesis and Dissertation Literature Reviews: A Comparison [Transcript]
Michigan Academy of Science, Arts, and Letters (2012)
Abstract
Using random samples of 125 engineering master's theses and 125 doctoral dissertations from the ProQuest Dissertations and Theses database, the author conducted 30 Google searches of random seven word strings from the literature review sections for each thesis/dissertation, looking for textual matches to scholarly sources. The author then did a statistical comparison for significance between the thesis and dissertation data for the following measures: length of the longest verbatim string found for each thesis/dissertation, and the number of verbatim matches found for each thesis/dissertation. This study is designed to explore the following research question: Do engineering master's theses have more and longer verbatim text matches than the doctoral dissertations? The general hypothesis being is considered is that they do, due to master's engineering students being more inexperienced at synthesizing the research literature than their doctoral counterparts. The significance of the difference between the thesis and doctoral dissertation results will be discussed, and implications for educating graduate students in proper source use will be shared. This is a follow-up study to one conducted in 2009 that focused only on master's theses, which was published in Science and Engineering Ethics journal in 2011.
Keywords
textual appropriation,
engineering,
graduate students
Publication Date
March 2, 2012
Citation Information
Edward J. Eckel. "Source Text Re-use in Engineering Thesis and Dissertation Literature Reviews: A Comparison [Transcript]"
Michigan Academy of Science, Arts, and Letters
. Alma College. Mar. 2012. Available at: http://works.bepress.com/edward_eckel/6