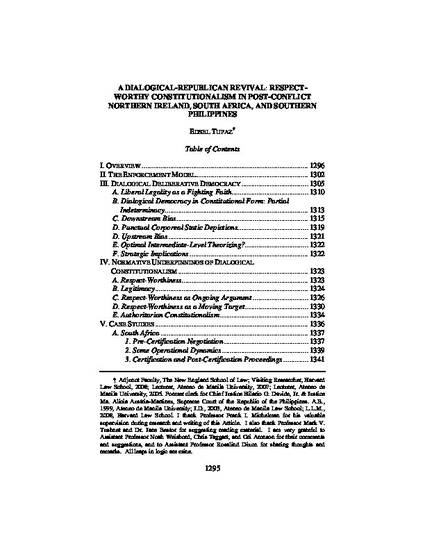 Article
A Dialogical-Republican Revival: Respect-worthy Constitutionalism in Post-Conflict Northern Ireland, South Africa, and Southern Philippines
Wayne Law Review (2009)
Abstract
This Article addresses the question of constitutional design and negotiation for deeply divided societies in post-conflict settings. It argues in favor of the adoption and application of what might be termed as the "dialogical" model of democratic constitutionalism as opposed to the "enforcement" model which characterizes much of contemporary legal ordering. In discussing their features, the Article charts a normative apparatus for making the constitutional choice between the two, and, thereafter, it tests theory into practice by undertaking a comparative analysis of what might well be successful policymaking and constitution-making practices in Northern Ireland and South Africa. The findings show remarkable dialogical politics occurring in both countries during post-conflict transition and reconstruction. Considerable lesson-drawing between Northern Ireland and South Africa had indeed taken place, intertwined as they are in a transnational cooperative political order. In particular, constitutional engineers resorted to constructive ambiguity in the resolution of issues, characterized by theoretical minimalism and qualified by strategic conceptual ascents. In light of the constructive constitutional practices of Northern Ireland and South Africa, the Article ultimately suggests four areas of constitutional learning in the Philippine political milieu and gauges their transformative qualities through communicative exchange.
Citation Information
Edsel F Tupaz. "A Dialogical-Republican Revival: Respect-worthy Constitutionalism in Post-Conflict Northern Ireland, South Africa, and Southern Philippines"
Wayne Law Review
Vol. 54 (2009)
Available at: http://works.bepress.com/edsel_tupaz/4/