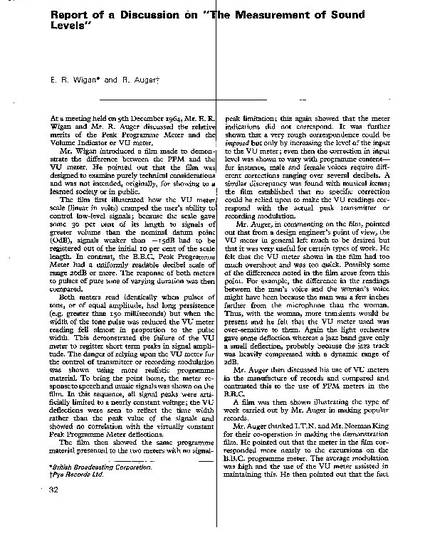 Article
Report of a Discussion on "The measurement of sound levels"
British Kinematolography (1965)
Abstract
At a meeting held on 9th December 1964, Mr. E. R. Wigan and Mr. R. Auger discussed the relative merits of the Peak Programme meter and the Volume Indicator or VU Meter. Mr. Wigan introduced a film made to demonstrate the difference between the PPM and the VU meter. He pointed out that the film was designed to examine purely technical considerations and was not intended, originally, for showing to a learned society or in public. imposed but only by increasing the level of the input to the VU meter; even then the correction in input level was shown to vary with programme content- for instance, male and female voices require different corrections ranging over several decibels. A similar discrepancy was found with musical items; the film established that no specific correction could be relied upon to make the VU readings cor- respond with the actual peak transmitter or recording modulation. The film first illustrated how the VU meter scale (linear in volts) cramped the user's ability to control low-level signals; because the scale gave some 30 per cent of its length to signals of greater volume than the nominal datum point (OdB), signals weaker than -15dB had to be VU meter in general left much to be desired but registered out of the initial IO per cent of the scale length. In contrast, the B.B.C. Peak Programme Meter had a uniformly readable decibel scale of range 2odB or more. The response of both meters to pulses of pure tone of varying duration was then compared.
Publication Date
Summer July, 1965
Citation Information
Edmund Ramsay Wigan and R Auger. "Report of a Discussion on "The measurement of sound levels""
British Kinematolography
Vol. 47 Iss. 1 (1965) p. 32 - 37
Available at: http://works.bepress.com/edmund-wigan/23/