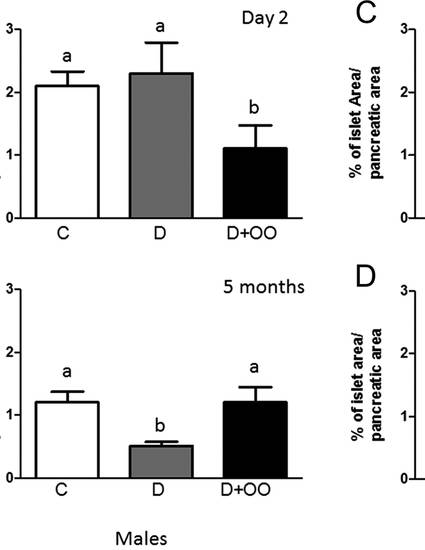 Article
Addition of olive oil to diet of rats with mild pre-gestational diabetes impacts offspring β-cell development
Journal of Endocrinology (2020)
Abstract
Maternal diabetes impairs fetal development and increases the risk of metabolic diseases in the offspring. Previously, we demonstrated that maternal dietary supplementation with 6% of olive oil prevents diabetes-induced embryo and fetal defects, in part, through the activation of peroxisome proliferator-activated receptors (PPARs). In this study, we examined the effects of this diet on neonatal and adult pancreatic development in male and female offspring of mothers affected with pre-gestational diabetes. A mild diabetic model was developed by injecting neonatal rats with streptozotocin (90 mg/kg). During pregnancy, these dams were fed a chow diet supplemented or not with 6% olive oil. Offspring pancreata was examined at day 2 and 5 months of age by immunohistochemistry followed by morphometric analysis to determine number of islets, α and β cell clusters and β-cell mass. At 5 months, male offspring of diabetic mothers had reduced β-cell mass that was prevented by maternal supplementation with olive oil. PPARα and PPARγ were localized mainly in α cells and PPARβ/δ in both α and β cells. Although Pparβ/δ and Pparγ RNA expression showed reduction in 5-month-old male offspring of diabetic rats, Pparβ/δ expression returned to control levels after olive-oil supplementation. Interestingly, 
in vitro
 exposure to oleic acid (major component of olive oil) and natural PPAR agonists such as LTB4, CPC and 15dPGJ2 also significantly increased expression of all Ppars in αTC1–6 cells. However, only oleic acid and 15dPGJ2 increased insulin and Pdx-1 expression in INS-1E cells suggesting a protective role in β-cells. Olive oil may be considered a dietary supplement to improve islet function in offspring of affected mothers with pre-gestational diabetes.
Citation Information
Bushra Taqui, Farzad Asadi, Evangelina Capobianco, Daniel B Hardy, et al.. "Addition of olive oil to diet of rats with mild pre-gestational diabetes impacts offspring β-cell development"
Journal of Endocrinology
(2020)
Available at: http://works.bepress.com/edith-arany/5/