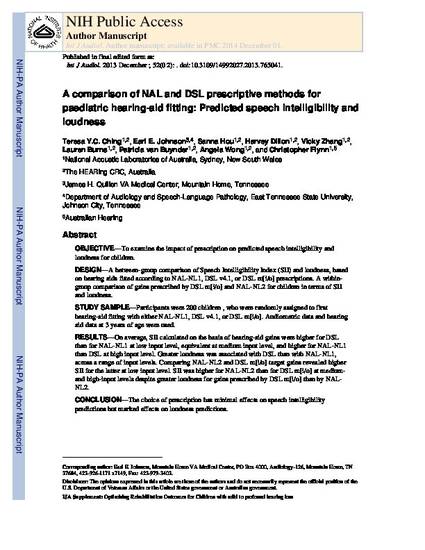 Article
A Comparison of NAL and DSL Prescriptive Methods for Paediatric Hearing-Aid Fitting: Predicted Speech Intelligibility and Loudness
International Journal of Audiology
Publication Date
12-1-2013
Description
Objective: To examine the impact of prescription on predicted speech intelligibility and loudness for children. Design: A between-group comparison of speech intelligibility index (SII) and loudness, based on hearing aids fitted according to NAL-NL1, DSL v4.1, or DSL m[i/o] prescriptions. A within-group comparison of gains prescribed by DSL m[i/o] and NAL-NL2 for children in terms of SII and loudness. Study sample: Participants were 200 children, who were randomly assigned to first hearing-aid fitting with either NAL-NL1, DSL v4.1, or DSL m[i/o]. Audiometric data and hearing-aid data at 3 years of age were used. Results: On average, SII calculated on the basis of hearing-aid gains were higher for DSL than for NAL-NL1 at low input level, equivalent at medium input level, and higher for NAL-NL1 than DSL at high input level. Greater loudness was associated with DSL than with NAL-NL1, across a range of input levels. Comparing NAL-NL2 and DSL m[i/o] target gains revealed higher SII for the latter at low input level. SII was higher for NAL-NL2 than for DSL m[i/o] at medium- and high-input levels despite greater loudness for gains prescribed by DSL m[i/o] than by NAL-NL2. Conclusion: The choice of prescription has minimal effects on speech intelligibility predictions but marked effects on loudness predictions.
Citation Information
Teresa Y.C. Ching, Earl E. Johnson, Sanna Hou, Harvey Dillon, et al.. "A Comparison of NAL and DSL Prescriptive Methods for Paediatric Hearing-Aid Fitting: Predicted Speech Intelligibility and Loudness"
International Journal of Audiology
Vol. 52 Iss. 2 (2013) p. 29 - 38 ISSN: 1499-2027
Available at: http://works.bepress.com/earl-johnson/52/