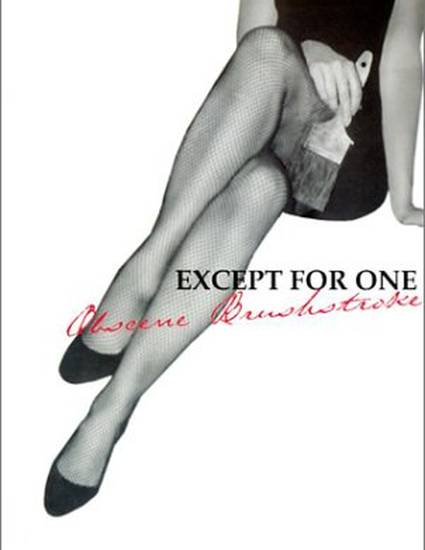 Book
Except for One Obscene Brushstroke
(2003)
Abstract
What is moving about Orlowsky's poetry is the manner in which she moves us through her images. Her poems progress like silent films that show the entire universe, then a galaxy, then a star, then a planet, then an organism, then an atom, then an explosion, although not necessarily in that order. There is an element of randomness, of transmitting events and thoughts as they happen, of moving from vastness to the finite; perhaps this accounts for the freshness, the beautiful brutality of Orlowsky's poetry.
– Jenny Boully, Maisonneuve
At a time when so much contemporary poetry relies on either disjointed sonic fireworks or detached intellectualism to convince the reader of its merits, Orlowsky's new work is deliberately a little flat and deals with everyday events in a voice that is deceptively straightforward . . . The best poems describe a kind of stasis between a drab, everyday world and an erotic, often bizarre fantasy life. In the process, they imply complex, often buried narratives, challenging the reader to solve them, to put them together like little puzzles.
– Kevin Pufer, American Book Review, 25th Anniversary
Dzvinia Orlowsky's new poems, unabashedly carnal and spiritual, bring me face to face with the human struggle to befriend the strangeness of being here. In reading this book I had the most vivid sensation that I was being allowed to look inside a woman's head and soul in a way I don't think I have ever experienced. 
– Franz Wright
Brilliant, erotic—nobody gives it to us with quite the direct bravery of Dzvinia Orlowsky. The energy in these poems is irrepressible, irresistible. Poem after poem gives the reader more life. And there is a powerful music working through these tender, vicious poems. 
– Stephen Berg
Weeks after I'd first Dzvinia Orlowsky's Except for one Obscene Brushstroke, images from several of the poems would stop me in parking lots, give me pause in the supermarket. That's the bittersweet power of Ms. Orlowsky's fearsome gift of clarity—the words sink deep and then haunt. 
– Dennis Lehane
Publisher
Carnegie Mellon University Press
Citation Information
Dzvinia Orlowsky. Except for One Obscene Brushstroke. (2003) - 65
Available at: http://works.bepress.com/dzvinia_orlowsky/4/