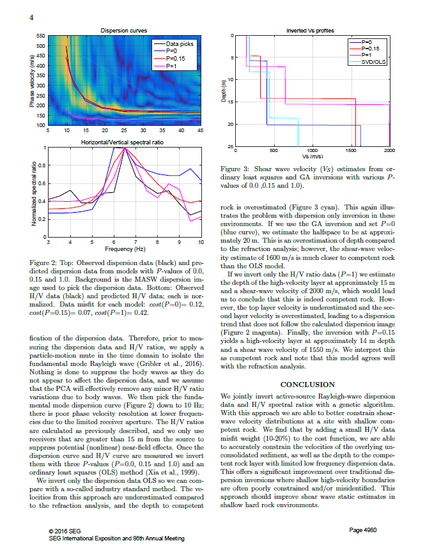 Article
Joint Inversion of H/V Spectral Ratios and Phase-Velocity Dispersion with Active Seismic Data
SEG Technical Program Expanded Abstracts 2016 (2016)
Abstract
We present a joint-inversion method for Rayleigh-wave dispersion and horizontal-to-vertical (H/V) spectral ratios. Incorporating the H/V data adds additional information to the inversion and improves the near-surface shear wave velocity distribution in shallow hard-rock environments. Our active source joint-inversion approach is able to accurately estimate shear wave velocity distributions when Rayleigh-wave dispersion inversion alone fails. We use multi-offset multi-component active source seismic data recorded on vertical and horizontal in-line geophones. From these data we generate an H/V curve and estimate Rayleigh-wave phase velocities. We employ the genetic algorithm to jointly invert these separate data sets and estimate the shear-wave velocity distribution as a function of depth. We demonstrate our new approach using synthetic data from a model representing an unconsolidated sediment layer overlying a competent rock half-space at 15 meters depth. We then present a multi-layer inversion of active source field records.
Keywords
multicomponent,
near surface,
surface wave,
dispersion,
inversion
Publication Date
October 18, 2016
DOI
10.1190/segam2016-13864369.1
Citation Information
Gabriel Gribler and T. Dylan Mikesell. "Joint Inversion of H/V Spectral Ratios and Phase-Velocity Dispersion with Active Seismic Data"
SEG Technical Program Expanded Abstracts 2016
(2016) p. 4977 - 4982 ISSN: 19494645
Available at: http://works.bepress.com/dylan_mikesell/28/