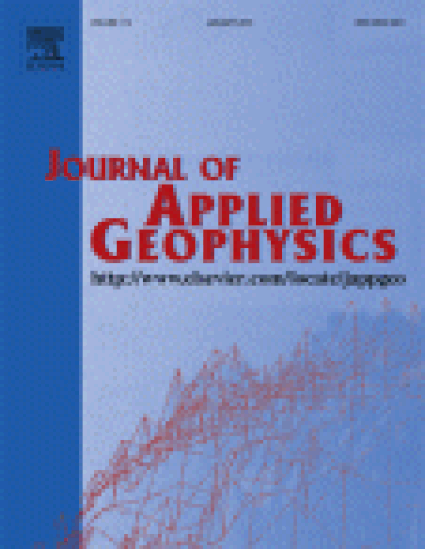 Article
Quality-Factor and Reflection-Coefficient Estimation Using Surface-wave Ghost Reflections from Subvertical Structures
Journal of Applied Geophysics (2015)
Abstract
Seismic interferometry can retrieve the Green's function between receivers from the cross-correlation and summation of recordings from a boundary of surrounding sources. Having the sources only along a boundary is sufficient if the medium is lossless. If the medium is dissipative, the retrieved result using cross-correlation contains non-physical (ghost) arrivals. When using receivers at the surface and transient sources in the subsurface for the retrieval of the reflection response in a dissipative medium, it has been shown that the retrieved ghost reflections are characteristic of the quality factor of the subsurface. The ghost reflections are caused by internal reflections inside subsurface layers. It has been shown with numerical examples for recordings in a borehole from a surface source that a ghost reflection can be discriminated from physical reflections and tied to a specific subsurface layer. After connecting the ghost reflection to a specific layer, the quality factor of the medium above this layer and the reflection coefficient at the layer interface can be estimated. In this article, we show how the above principles can be adapted and applied for surface waves. Due to intrinsic losses in the medium, surfacewave ghost reflections are retrieved from internal scattering between subvertical boundaries. We demonstrate the method on an ultrasonic dataset recorded on a sample composed of a PVC block and an aluminum block. The aluminum block has a groove parallel to the PVC/aluminum interface. Using a surface-wave ghost reflection between the groove and the PVC/aluminum interface, we estimate the quality factor of the PVC and the reflection coefficient at the PVC/aluminum interface. We also show that the ghost reflection can be identified and tied to the layer between the groove and the PVC/aluminum interface, thus confirming previous numerical findings.
Keywords
seismic interferometry,
surface waves,
intrinsic attenuation,
quality factor,
reflection coefficient,
ultrasonic
Publication Date
January, 2015
DOI
10.1016/j.jappgeo.2014.11.019
Citation Information
Deyan Draganov, Elmer Ruigrok, Ranajit Ghose, Dylan Mikesell, et al.. "Quality-Factor and Reflection-Coefficient Estimation Using Surface-wave Ghost Reflections from Subvertical Structures"
Journal of Applied Geophysics
Vol. 112 (2015) p. 206 - 214
Available at: http://works.bepress.com/dylan_mikesell/23/