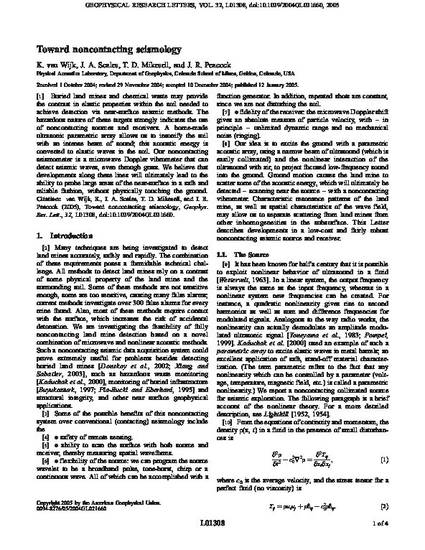 Article
Toward Noncontacting Seismology
Geophysical Research Letters (2005)
Abstract
[1]
 Buried land mines and chemical waste may provide the contrast in elastic properties within the soil needed to achieve detection via near-surface seismic methods. The hazardous nature of these targets strongly indicates the use of noncontacting sources and receivers. A home-made ultrasonic parametric array allows us to insonify the soil with an intense beam of sound; this acoustic energy is converted to elastic waves in the soil. Our noncontacting seismometer is a microwave Doppler vibrometer that can detect seismic waves, even through grass. We believe that developments along these lines will ultimately lead to the ability to probe large areas of the near-surface in a safe and reliable fashion, without physically touching the ground.
Keywords
remote sensing,
seismic methods,
instruments and techniques,
acoustic properties,
instruments useful in three or more fields
Publication Date
January, 2005
Citation Information
K. van Wijk, J. A. Scales, T. D. Mikesell and J. R. Peacock. "Toward Noncontacting Seismology"
Geophysical Research Letters
Vol. 32 Iss. 1 (2005) p. L01308-1 - L01308-4
Available at: http://works.bepress.com/dylan_mikesell/22/