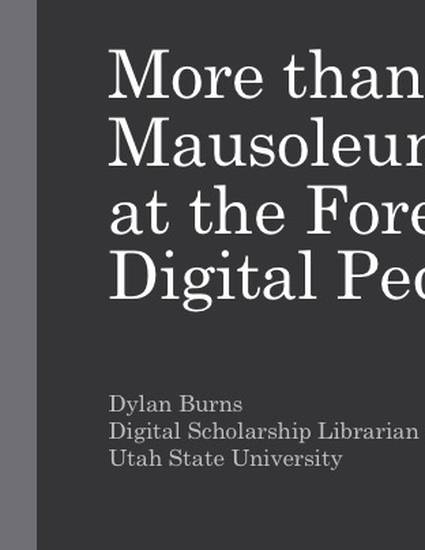 Presentation
More than a Mausoleum: The Library at the Forefront of Digital Pedagogy
Utah Symposium on Digital Humanities 2017
Document Type
Presentation
Location
University of Utah, Salt Lake City
Publication Date
1-1-2017
Abstract
Some of the more nostalgic set have opined about the "death" of the traditional library and how universities need to "Save the stacks." Are we losing the traditional library to chase digital trends? This paper will argue that the incorporation of Digital Humanities into the library is leading to an explosion of new collections adventures. If we take one definition of Digital Humanities as the presentation of humanities research through digital means as Josh Honn suggests ("Never Neutral: Critical Approaches to Digital Tools & Culture in the Humanities" [2013], 6), a shift in focus toward the Digital is providing new access and curation drawing directly from classroom instruction. Not only do the demands of DH scholars lead to more digitization and digital archival materials, but the use of digital tools is allowing, for the first time, the wide reading and promotion of scholarship done by students and faculty on campus. Drawing from my experience as a Digital Scholarship Librarian and publishing specialist I am interested in the ways in which the spirit of DH is being captured in ongoing digital publishing programs offered by the library. Through platforms like online journals and conferences, librarians provide platforms for students across disciplines to write and publish on well-read and well-viewed online publications. Exhibit platforms like Omeka and Scalar provide experience to students in learning to be curators of our online collections, while, in turn, showcasing distinctive, and often hidden, collections. In this way, much like all of DH, we are approaching traditional library modes, in this case collections, from a new perspective, the digital, which allows for greater input, flexibility, and outreach from our students and faculty.
Citation Information
Dylan Burns. "More than a Mausoleum: The Library at the Forefront of Digital Pedagogy"
Utah Symposium on Digital Humanities 2017
(2017)
Available at: http://works.bepress.com/dylan_burns/6/