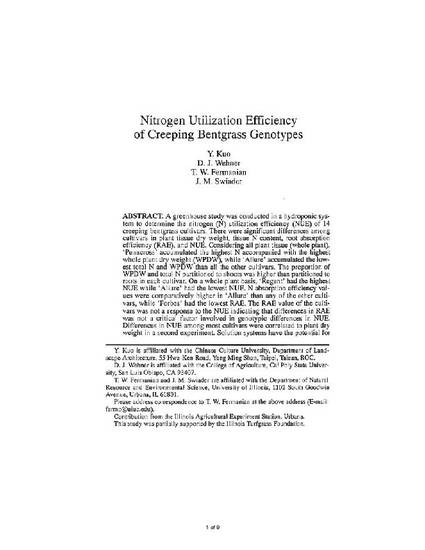 Article
Nitrogen Utilization Efficiency of Creeping Bentgrass Genotypes
Journal of Turfgrass Management
Publication Date
1-1-1999
Abstract
A greenhouse study was conducted in a hydroponic system to determine the nitrogen (N) utilization efficiency (NUE) of 14 creeping bentgrass cultivars. There were significant differences among cultivars in plant tissue dry weight, tissue N content, root absorption efficiency (RAE), and NUE. Considering all plant tissue (whole plant), 'Penncross' accumulated the highest N accompanied with the highest whole plant dry weight (WPDW), while 'Allure' accumulated the lowest total Nand WPDW than all the other cultivars. The proportion of WPDW and total N partitioned to shoots was higher than partitioned to roots in each cultivar. On a whole plant basis, 'Regent' had the highest NUE while 'Allure' had the lowest NUE. N absorption efficiency values were comparatively higher in 'Allure' than any of the other cultivars, while 'Forbes' had the lowest RAE. The RAE value of the cultivars was not a response to the NUE indicating that differences in RAE was not a critical factor involved in genotypic differences in NUE. Differences in NUE among most cultivars were correlated to plant dry weight in a second experiment. Solution systems have the potential for an effective means of screening the NUE of creeping bentgrass cultivars.
Citation Information
Y. Kuo, David J. Wehner, T. W. Fermanian and John M. Swiader. "Nitrogen Utilization Efficiency of Creeping Bentgrass Genotypes"
Journal of Turfgrass Management
Vol. 3 Iss. 2 (1999) p. 21 - 29
Available at: http://works.bepress.com/dwehner/13/