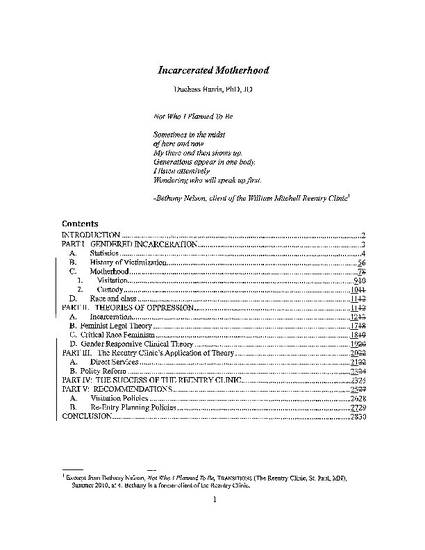 Article
Incarcerated Motherhood
Journal of Race, Gender, & Ethnicity (2013)
Abstract
This article explores how theories about race, gender, and the law are applied within the Clinic. In this article, we define and understand policies affecting incarcerated women from a theoretical perspective. Thereafter, we apply this theoretical knowledge within the practical context of these clients as a means of arriving at a more nuanced set of policy recommendations for incarcerated women who are mothers. Part I explains the unique gendered experience of incarcerated women. Part II explores legal theories of marginalization and oppression and how these theories are instructive in designing legal services for incarcerated women. Part III explains how the Reentry Clinic incorporates these key theories in its service delivery. Part IV considers how the application of theory in the clinical setting results in higher success rates than traditional legal services. In addition, we recommend specific prison policy reform in order to facilitate the successful reentry of incarcerated women.
Citation Information
Duchess Harris. "Incarcerated Motherhood"
Journal of Race, Gender, & Ethnicity
Vol. 6 Iss. 1 (2013)
Available at: http://works.bepress.com/duchess_harris/39/