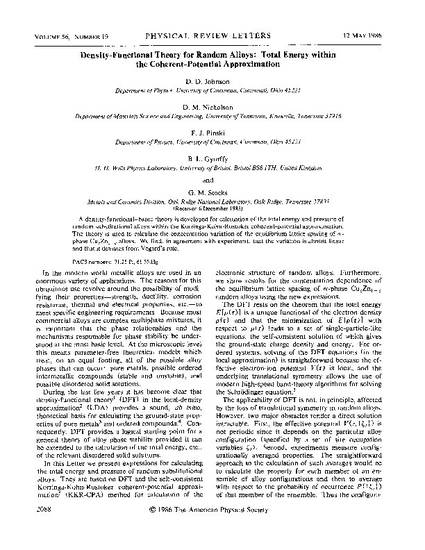 Article
Density-Functional Theory for Random Alloys: Total Energy within the Coherent-Potential Approximation
Physical Review Letters (1986)
Abstract
A density-functional-based theory is developed for calculation of the total energy and pressure of random substitutional alloys within the Korringa-Kohn-Rostoker coherent-potential approximation. The theory is used to calculate the concentration variation of the equilibrium lattice spacing of α-phase CucZn1−c alloys. We find, in agreement with experiment, that the variation is almost linear and that it deviates from Vegard's rule.
Publication Date
May 12, 1986
Citation Information
Duane D. Johnson, D. M. Nicholson, F. J. Pinski, B. L. Gyorffy, et al.. "Density-Functional Theory for Random Alloys: Total Energy within the Coherent-Potential Approximation"
Physical Review Letters
Vol. 56 Iss. 19 (1986)
Available at: http://works.bepress.com/duane_johnson/78/