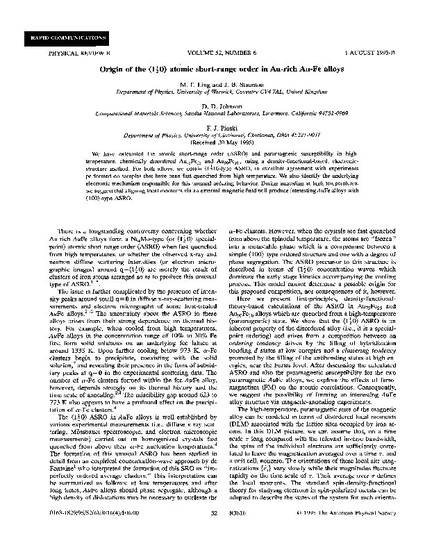 Article
Origin of the 〈11/20〉 atomic short-range order in Au-rich Au-Fe alloys
Physical Review B (1995)
Abstract
We have calculated the atomic short-range order (ASRO) and paramagnetic susceptibility in high-temperature, chemically disordered Au75Fe25 and Au90Fe10, using a density-functional-based, electronic-structure method. For both alloys, we obtain 〈11/20〉-type ASRO, in excellent agreement with experiments performed on samples that have been fast quenched from high temperature. We also identify the underlying electronic mechanism responsible for this unusual ordering behavior. During annealing at high temperatures, we suggest that aligning local moments via an external magnetic field will produce interesting AuFe alloys with 〈100〉-type ASRO.
Publication Date
August 1, 1995
Citation Information
M. F. Ling, J. B. Staunton, Duane D. Johnson and F. J. Pinski. "Origin of the 〈11/20〉 atomic short-range order in Au-rich Au-Fe alloys"
Physical Review B
Vol. 52 Iss. 6 (1995)
Available at: http://works.bepress.com/duane_johnson/67/