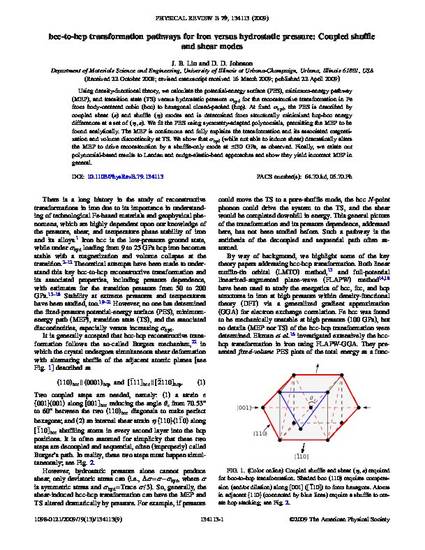 Article
bcc-to-hcp transformation pathways for iron versus hydrostatic pressure: Coupled shuffle and shear modes
Physical Review B (2009)
Abstract
Using density-functional theory, we calculate the potential-energy surface (PES), minimum-energy pathway (MEP), and transition state (TS) versus hydrostatic pressure σhyd for the reconstructive transformation in Fe from body-centered cubic (bcc) to hexagonal closed-packed (hcp). At fixed σhyd, the PES is described by coupled shear (ϵ) and shuffle (η) modes and is determined from structurally minimized hcp-bcc energy differences at a set of (η,ϵ). We fit the PES using symmetry-adapted polynomials, permitting the MEP to be found analytically. The MEP is continuous and fully explains the transformation and its associated magnetization and volume discontinuity at TS. We show that σhyd (while not able to induce shear) dramatically alters the MEP to drive reconstruction by a shuffle-only mode at ≤30 GPa, as observed. Finally, we relate our polynomial-based results to Landau and nudge-elastic-band approaches and show they yield incorrect MEP in general.
Publication Date
April 1, 2009
Citation Information
J. B. Liu and Duane D. Johnson. "bcc-to-hcp transformation pathways for iron versus hydrostatic pressure: Coupled shuffle and shear modes"
Physical Review B
Vol. 79 Iss. 13 (2009)
Available at: http://works.bepress.com/duane_johnson/39/