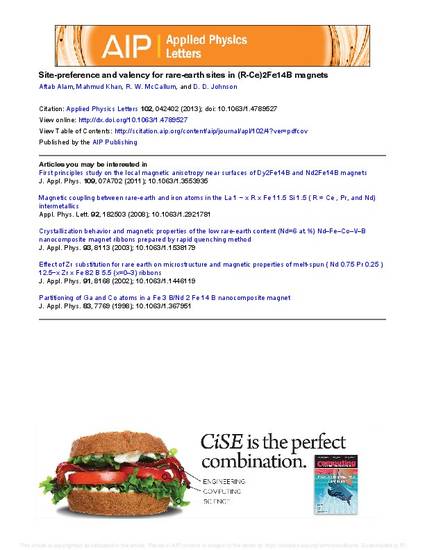 Article
Site-preference and valency for rare-earth sites in (R-Ce)2Fe14B magnets
Applied Physics Letters
Publication Version
Published Version
Publication Date
1-1-2013
Abstract
Rare-earth (R) permanent magnets of R2Fe14B have technological importance due to their high energy products, and they have two R-sites (Wyckoff 4f and 4g, with four-fold multiplicity) that affect chemistry and valence. Designing magnetic behavior and stability via alloying is technologically relevant to reduce critical (expensive) R-content while retaining key properties;cerium, an abundant (cheap) R-element, offers this potential. We calculate magnetic propertiesand Ce site preference in ( R1−xCex) 2Fe14B [R = La,Nd] using density functional theory (DFT)methods—including a DFT + U scheme to treat localized 4f-electrons. Fe moments compare well with neutron data—almost unaffected by Hubbard U, and weakly affected by spin-orbit coupling.In La2Fe14B, Ce alloys for 0≤x≤1 and prefers smaller R(4f) sites, as observed, a trend we find unaffected by valence. Whereas, in Nd2Fe14B, Ce is predicted to have limited alloying ( x≤0.3 ) with a preference for larger R(4g) sites, resulting in weak partial ordering and segregation. The Curie temperatures versus x for (Nd,Ce) were predicted for a typical sample processing and verified experimentally.
Rights
Copyright 2013 American Institute of Physics. This article may be downloaded for personal use only. Any other use requires prior permission of the author and the American Institute of Physics.
Copyright Owner
American Institute of Physics
File Format
application/pdf
Citation Information
Aftab Alam, Mahmud Khan, R. William McCallum and Duane D. Johnson. "Site-preference and valency for rare-earth sites in (R-Ce)2Fe14B magnets"
Applied Physics Letters
Vol. 102 Iss. 4 (2013) p. 042402
Available at: http://works.bepress.com/duane_johnson/27/