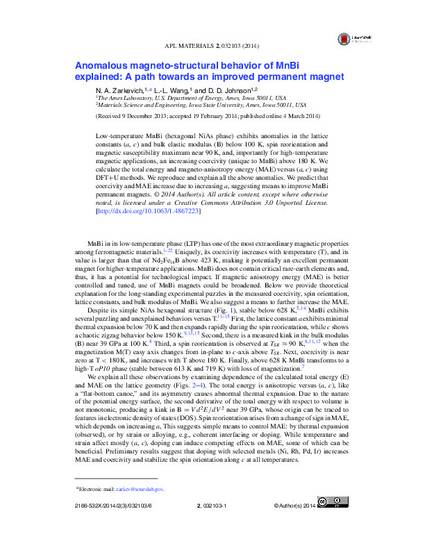 Article
Anomalous magneto-structural behavior of MnBi explained: A path towards an improved permanent magnet
APL Materials
Publication Date
1-1-2014
Abstract
Low-temperature MnBi (hexagonal NiAs phase) exhibits anomalies in the lattice constants (a, c) and bulk elastic modulus (B) below 100 K, spin reorientation and magnetic susceptibilitymaximum near 90 K, and, importantly for high-temperature magnetic applications, an increasingcoercivity (unique to MnBi) above 180  K. We calculate the total energy and magneto-anisotropyenergy (MAE) versus (a, c) using DFT+U methods. We reproduce and explain all the above anomalies. We predict that coercivity and MAE increase due to increasing a, suggesting means to improve MnBi permanent magnets.
Rights
Copyright 2014 Authors. All article content, except where otherwise noted, is licensed under a Creative Commons Attribution 3.0 Unported License.
Copyright Owner
The authors
File Format
application/pdf
Citation Information
Nikolai A. Zarkevich, Linlin Wang and Duane D. Johnson. "Anomalous magneto-structural behavior of MnBi explained: A path towards an improved permanent magnet"
APL Materials
Vol. 2 Iss. 3 (2014) p. 032103
Available at: http://works.bepress.com/duane_johnson/1/