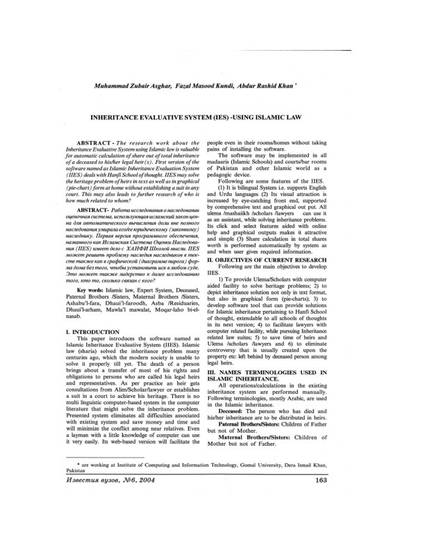 Article
Inheritance Evaluation System using Islamic law
Journal of Higher Education Institutions (2004)
Abstract
The research work about the Inheritance Evaluation System using Islamic law is valuable for automatic calculation of share out of total inheritance of a deceased to his/her legal heir(s). First version of the software named as Islamic Inheritance Evaluation System (IIES) deals with Hanfi School of thought. IIES may solve the heritage problem of heirs in text as well as in graphical form at home without establishing a suit in any court. This also leads to further research of who is how much related to whom?
Keywords
Islamic law,
Expert System,
Deceased,
Paternal Brothers/Sisters,
Maternal Brothers/Sisters,
Ashabu'l-fara,
Dhaui'l-faroodh,
Asba/Residuaries,
Dhaui'l-arham,
Mawla'l mawalat,
Moqar-laho,
bi-el-nasab.
Publication Date
Fall November 9, 2004
Citation Information
Dr. Muhammad Zubair Asghar, Fazal Masud Kundi and Abdur Rashid Khan. "Inheritance Evaluation System using Islamic law"
Journal of Higher Education Institutions
Vol. 9 Iss. 6 (2004)
Available at: http://works.bepress.com/drzubair/10/