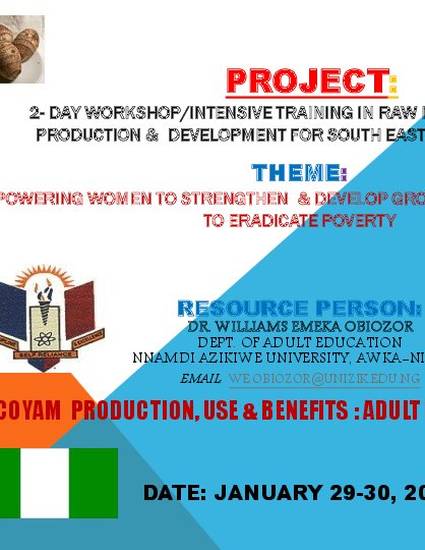 Presentation
ADULT LITERACY STRATEGIES FOR WOMEN on COCOYAM PRODUCTION, USE & BENEFITS IN IGBOLAND
2- DAY WORKSHOP/INTENSIVE TRAINING ON RAW MATERIALS GROWTH, ORGANIZED BY THE ROYAL ASSOCIATION IN AID OF WOMEN ORGANIZATIONS, ABUJA (2013)
Abstract
EMPOWERING WOMEN TO STRENGTHEN & DEVELOP GROWTH OF RAW MATERIALS TO ERADICATE POVERTY is a priority for every government if we have to attain the vision and goals of MDGs/EFA in 2015. Adult educators are contributing to this vision with extension service programmes to rural women via workshops like these.
Keywords
cocoyam,
farming,
women education,
crops,
culture,
traing,
community development,
literacy
Publication Date
January 30, 2013
Citation Information
Dr Williams Emeka Obiozor. "ADULT LITERACY STRATEGIES FOR WOMEN on COCOYAM PRODUCTION, USE & BENEFITS IN IGBOLAND"
2- DAY WORKSHOP/INTENSIVE TRAINING ON RAW MATERIALS GROWTH, ORGANIZED BY THE ROYAL ASSOCIATION IN AID OF WOMEN ORGANIZATIONS, ABUJA
(2013)
Available at: http://works.bepress.com/drwilliams_obiozor/28/