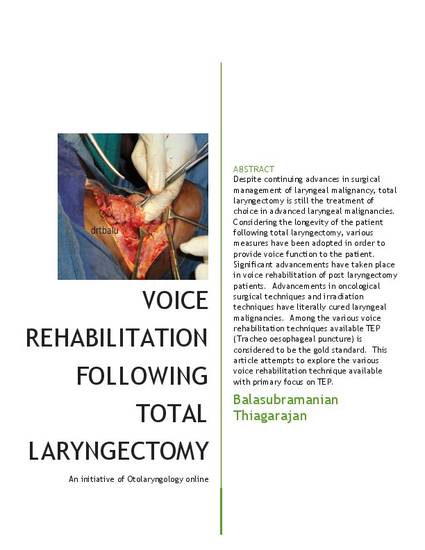 Article
Voice rehabilitation following total laryngectomy
ENT SCHOLAR (2012)
Abstract
Despite continuing advances in surgical management of laryngeal malignancy, total laryngectomy is still the treatment of choice in advanced laryngeal malignancies. Considering the longevity of the patient following total laryngectomy, various measures have been adopted in order to provide voice function to the patient. Significant advancements have taken place in voice rehabilitation of post laryngectomy patients. Advancements in oncological surgical techniques and irradiation techniques have literally cured laryngeal malignancies. Among the various voice rehabilitation techniques available TEP (Tracheo oesophageal puncture) is considered to be the gold standard. This article attempts to explore the various voice rehabilitation technique available with primary focus on TEP.
Publication Date
October 8, 2012
Citation Information
Balasubramanian Thiagarajan. "Voice rehabilitation following total laryngectomy"
ENT SCHOLAR
(2012)
Available at: http://works.bepress.com/drtbalu/7/