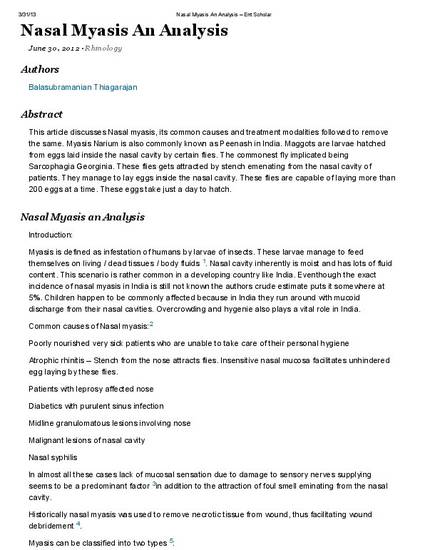 Article
Nasal Myasis An Analysis
ENT SCHOLAR (2012)
Abstract
This article discusses Nasal myasis, its common causes and treatment modalities followed to remove the same. Myasis Narium is also commonly known as Peenash in India. Maggots are larvae hatched from eggs laid inside the nasal cavity by certain flies. The commonest fly implicated being Sarcophagia Georginia. These flies gets attracted by stench emanating from the nasal cavity of patients. They manage to lay eggs inside the nasal cavity. These flies are capable of laying more than 200 eggs at a time. These eggs take just a day to hatch.
Keywords
Nasal myasis,
Peenash,
Sarcophagia Georginia
Publication Date
June 30, 2012
Citation Information
Balasubramanian Thiagarajan. "Nasal Myasis An Analysis"
ENT SCHOLAR
(2012)
Available at: http://works.bepress.com/drtbalu/20/