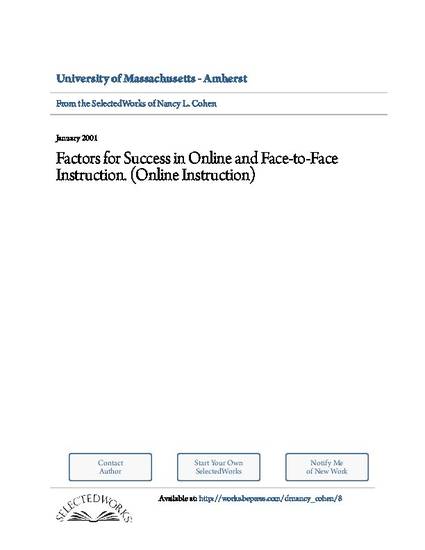 Article
Factors for Success in Online and Face-to-Face Instruction. (Online Instruction)
Academic Exchange Quarterly (2001)
Abstract
This study compared academic achievement between undergraduate students in an introductory nutrition course online and students taking the same course in a large-class lecture format. Using a quasi-experimental research design, two instructional treatments (online, [N=35] and large-class lecture instruction [N=434J) were applied to two groups of students and their achievement was measured by a pretest and posttest of nutrition knowledge as well as final course grade. No significant differences in posttest scores (nutrition knowledge) were found. When data were partitioned for age, however, older students taking the online course had significantly higher final course grad.es than both their younger online and all large-class lecture counterparts. Online course participation was found to be related to student's pretest knowledge, posttest scores, and age.
Publication Date
Winter 2001
Citation Information
Brian Miller, Dr. Nancy L. Cohen and Patricia Beffa-Negrini. "Factors for Success in Online and Face-to-Face Instruction. (Online Instruction)"
Academic Exchange Quarterly
Vol. 5 Iss. 4 (2001)
Available at: http://works.bepress.com/drnancy_cohen/8/