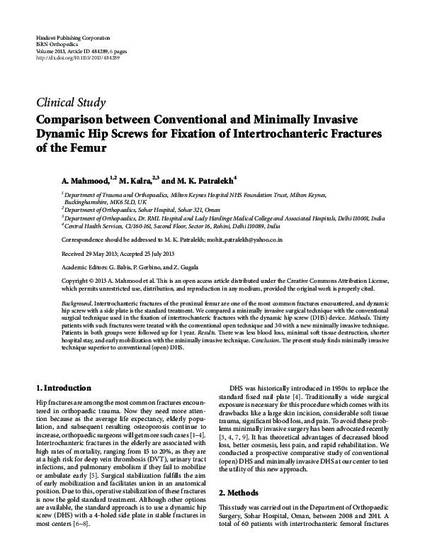 Article
Comparison between Conventional and Minimally Invasive Dynamic Hip Screws for Fixation of Intertrochanteric Fractures of the Femur
International Scholarly Research Networks(Orthopaedics) (2013)
Abstract
Background. Intertrochanteric fractures of the proximal femur are one of the most common fractures encountered, and dynamic hip screw with a side plate is the standard treatment. We compared a minimally invasive surgical technique with the conventional surgical technique used in the fixation of intertrochanteric fractures with the dynamic hip screw (DHS) device. Methods. Thirty patients with such fractures were treated with the conventional open technique and 30 with a new minimally invasive technique. Patients in both groups were followed up for 1 year. Results. There was less blood loss, minimal soft tissue destruction, shorter hospital stay, and early mobilization with the minimally invasive technique. Conclusion. The present study finds minimally invasive technique superior to conventional (open) DHS. 
Keywords
Minimally invasive,
dynamic hip screw,
intertrochanteric fractures
Publication Date
Summer 2013
Citation Information
Dr Mohit Kumar Patralekh, Asif Mehmood and Mukesh Kalra. "Comparison between Conventional and Minimally Invasive Dynamic Hip Screws for Fixation of Intertrochanteric Fractures of the Femur"
International Scholarly Research Networks(Orthopaedics)
(2013)
Available at: http://works.bepress.com/drmohitkumar-patralekh/3/