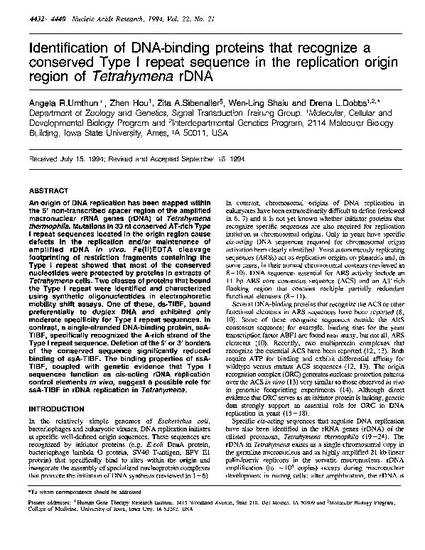 Article
Identification of DNA-binding proteins that recognize a Conserved Type I repeat sequence in the replication origin region of Tetrahymena rDNA
Nucleic Acids Research
Publication Version
Published Version
Publication Date
1-1-1994
DOI
10.1093/nar/22.21.4432
Abstract
An origin of DNA replication has been mapped within the 5' non-transcribed spacer region of the amplified macronuclear rRNA genes (rDNA) of Tetrahymena thermophila. Mutations in 33 nt conserved AT-rich Type I repeat sequences located in the origin region cause defects in the replication and/or maintenance of amplified rDNA in vivo. Fe(ll)EDTA cleavage footprinting of restriction fragments containing the Type I repeat showed that most of the conserved nucleotides were protected by proteins in extracts of Tetrahymena cells. Two classes of proteins that bound the Type I repeat were identified and characterized using synthetic oligonucleotides in electrophoretic mobility shift assays. One of these, ds-TIBF, bound preferentially to duplex DNA and exhibited only moderate specificity for Type I repeat sequences. In contrast, a single-stranded DNA-binding protein, ssATIBF, specifically recognized the A-rich strand of the Type I repeat sequence. Deletion of the 5′ or 3′ borders of the conserved sequence significantly reduced binding of ssA-TIBF. The binding properties of ssATIBF, coupled with genetic evidence that Type I sequences function as c/s-acting rDNA replication control elements in vivo, suggest a possible role for ssA-TIBF in rDNA replication in Tetrahymena.
Copyright Owner
Oxford University Press
File Format
application/pdf
Citation Information
Angela R. Umthun, Zhen Hou, Zita A. Sibenaller, Wen-Ling Shaiu, et al.. "Identification of DNA-binding proteins that recognize a Conserved Type I repeat sequence in the replication origin region of Tetrahymena rDNA"
Nucleic Acids Research
Vol. 22 Iss. 21 (1994) p. 4432 - 4440
Available at: http://works.bepress.com/drena-dobbs/29/