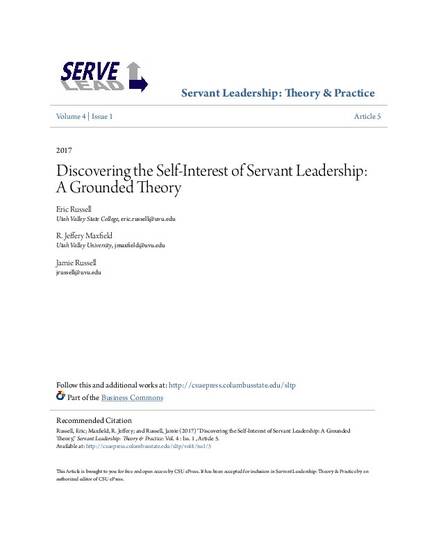 Article
Discovering the Self-Interest of Servant Leadership: A Grounded Theory
Servant Leadership: Theory & Practice (2017)
Abstract
This qualitative study set forth to discover how senior level leaders from
multiple for-profit sectors perceived the benefits derived from serving the
needs of followers. The study emerged from a thorough review of the
literature and advances the knowledge of servant leadership philosophy
by identifying the benefits to being a servant leader. The study involved
14 participants who were willing to anonymously complete the
questionnaire developed by the researchers. To discover how different
leaders perceived the benefits from serving followers, the researchers
employed a grounded theory design, allowing for a rich understanding of
the participants' interpretations. The coding and data analysis process
revealed a single theoretical finding: leaders realize personal benefits
from serving the needs of followers. The implications of this study
seemingly address the skepticism surrounding servant leadership by
identifying how service to others is in the self-interest of the leader.
Keywords
Servant Leadership,
Benefits,
Self-Interest,
Grounded Theory
Publication Date
Spring May, 2017
Citation Information
Russell, Eric; Maxfield, R. Jeffery; and Russell, Jamie (2017) "Discovering the Self-Interest of Servant Leadership: A Grounded Theory," Servant Leadership: Theory & Practice: Vol. 4 : Iss. 1 , Article 5.