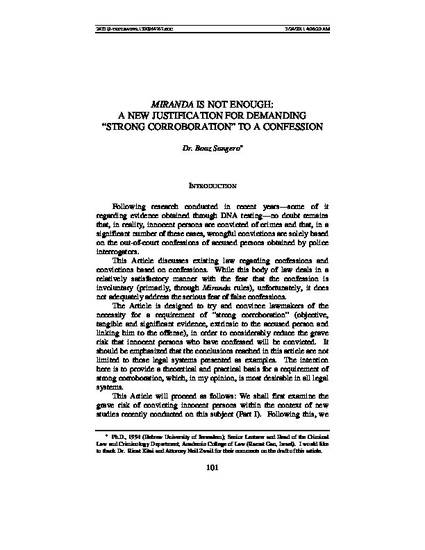 Article
Miranda Is Not Enough: A New Justification for Demanding "Strong Corroboration" to a Confession
Cardozo Law Review (2007)
Abstract
Following research conducted in recent years—some of it regarding evidence obtained through DNA testing—no doubt remains that, in reality, innocent persons are convicted of crimes and that, in a significant number of these cases, wrongful convictions are solely based on the out-of-court confessions of accused persons obtained by police interrogators.This Article discusses existing law regarding confessions and convictions based on confessions. While this body of law deals in a relatively satisfactory manner with the fear that the confession is involuntary (primarily, through Miranda rules), unfortunately, it does not adequately address the serious fear of false confessions.The Article is designed to try and convince lawmakers of the necessity for a requirement of "strong corroboration" (objective, tangible and significant evidence, extrinsic to the accused person and linking him to the offense), in order to considerably reduce the grave risk that innocent persons who have confessed will be convicted. It should be emphasized that the conclusions reached in this article are not limited to those legal systems presented as examples. The intention here is to provide a theoretical and practical basis for a requirement of strong corroboration, which, in my opinion, is most desirable in all legal systems.This Article will proceed as follows: We shall first examine the grave risk of convicting innocent persons within the context of new studies recently conducted on this subject (Part I). Following this, we will focus on the danger of false confessions (Part II) and convictions based on false confessions (Part III). Next, we shall examine the effect of the rules governing confessions on the nature of the police investigation (Part IV). The heart of the Article entails a discussion regarding the weight of the confession and an attempt to convince lawmakers of the need for a requirement of "strong corroboration" in all cases, even when law enforcement officials have not employed improper methods of interrogation (Part V). Before concluding, there will be a discussion of the documentation of interrogations through the use of video and its implications (Part VI). In the Epilogue, a call is issued to lawmakers to enact legislation, within the context of the laws of evidence, which would establish a requirement for "strong corroboration" as an essential condition for convicting a person on the basis of a confession.
Publication Date
May, 2007
Citation Information
Boaz Sangero. "Miranda Is Not Enough: A New Justification for Demanding "Strong Corroboration" to a Confession"
Cardozo Law Review
Vol. 28 Iss. 6 (2007)
Available at: http://works.bepress.com/dr_boaz_sangero/7/