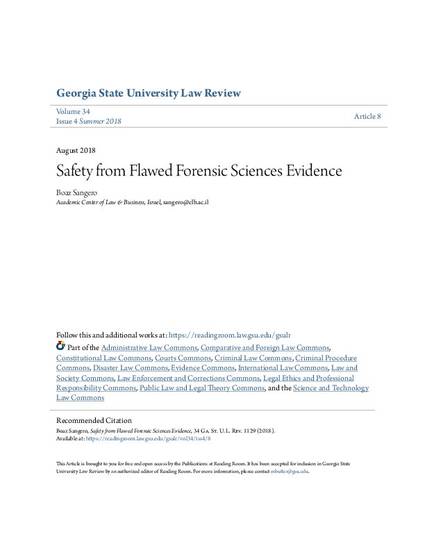 Article
Safety from Flawed Forensic Sciences Evidence
Georgia State University Law Review (2018)
Abstract
This article addresses the way to safety in the context of forensic sciences evidence. After presenting the current lack of safety, which this article terms "unsafety," it raises some possible safety measures to contend with this. The suggestions presented are grounded on two bases: first, the specific analysis of each type of evidence in line with the most recent research on the subject; and second, modern safety theory and its application to the criminal justice system.
I.                 Introduction
II.               Unsafety in Forensic Sciences Evidence
A.     The Admissibility of Forensic Sciences Evidence: From
Frye
to
Dauber
t
B.     The Weight of Forensic Sciences Evidence: From "Uniqueness," "Individualization," and "Perfection" to Empirical and Probabilistic Foundation
D.     Fingerprint Comparisons
E.     "Junk Science" as Evidence
III.              Safety Measures
A.     Developing Forensic Science Evidence as a Safety-Critical System
B.     Other Safety Changes in Scientific Evidence
IV.             Conclusion
Keywords
safety,
forensic science,
evidence,
criminal law,
false conviction,
junk science
Publication Date
Fall September 5, 2018
Citation Information
Boaz Sangero. "Safety from Flawed Forensic Sciences Evidence"
Georgia State University Law Review
Vol. 34 Iss. 4 (2018) p. 1129 - 1220
Available at: http://works.bepress.com/dr_boaz_sangero/14/