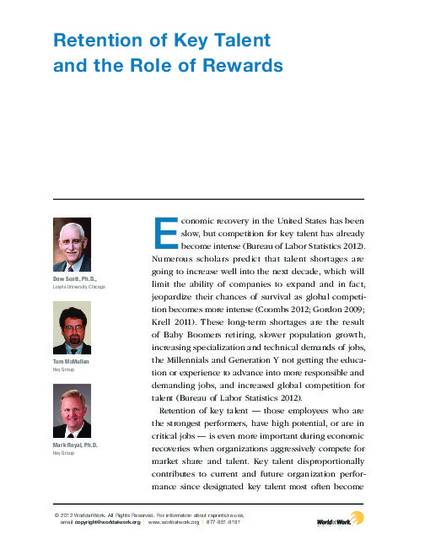 Article
Rentention of Key Talent and the Role of Rewards
WorldatWork Journal (2012)
Abstract
Retention of key talent – those employees who are the strongest performers, have high potential, or are in critical jobs – is particularly important during economic recoveries when organizations compete more aggressively for market share and talent. Key talent disproportionally contributes to current and future organization performance since key employees often become organization leaders or employees with unique skills. In today's world it is more challenging to hide your top talent because of social media applications like Linked In openly promote their capabilities and accomplishments. Furthermore, top talent can compare the "deal" or pay package they currently receive with that of other organizations through websites such as salary.com, vault.com, glassdoor.com and onetonline.org.
Publication Date
Winter 2012
Citation Information
Dow Scott. "Rentention of Key Talent and the Role of Rewards"
WorldatWork Journal
(2012)
Available at: http://works.bepress.com/dow_scott/84/