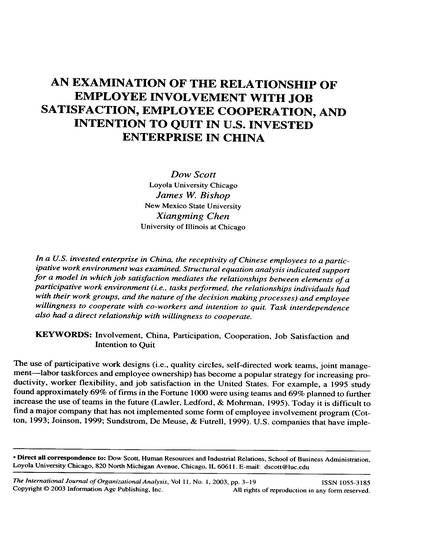 Article
An examination of the relationship of employee involvement with job satisfaction, employee cooperation, and intention to quit in U.S. invested enterprise in China
International Journal of Organizational Analysis (2003)
Abstract
In a U.S. invested enterprise in China, the receptivity of Chinese employees to a participative work environment was examined. Structural equation analysis indicated support for a model in which job satisfaction mediates the relationships between elements of a participative work environment (i.e., tasks performed, the relationships individuals had with their work groups, and the nature of the decision making processes) and employee willingness to cooperate with co-workers and intention to quit. Task interdependence also had a direct relationship with willingness to cooperate.
Citation Information
Dow Scott, J W Bishop and X Chen. "An examination of the relationship of employee involvement with job satisfaction, employee cooperation, and intention to quit in U.S. invested enterprise in China"
International Journal of Organizational Analysis
Vol. 11 Iss. 1 (2003)
Available at: http://works.bepress.com/dow_scott/55/