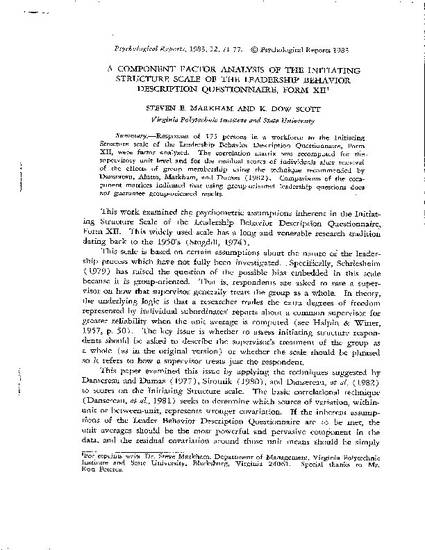 Article
A component factor analysis of the initiating structure scale of the leadership behavior description questionnaire, form XII
Psychological Reports (1983)
Abstract
Responses of 175 persons in a workforce to the Initiating Structure scale of the Leadership Behavior Description Questionnaire, Form XII, were factor analyzed. The correlation matrix was recomputed for the supervisory unit level and for the residual scores of individuals after removal of the effects of group membership using the technique recommended by Dansereau, Alutto, Markham, and Dumas (1982). Comparisons of the component matrices indicated that using group-oriented leadership questions does not guarantee group-oriented results.
Citation Information
S E Markham and Dow Scott. "A component factor analysis of the initiating structure scale of the leadership behavior description questionnaire, form XII"
Psychological Reports
Vol. 52 (1983)
Available at: http://works.bepress.com/dow_scott/12/