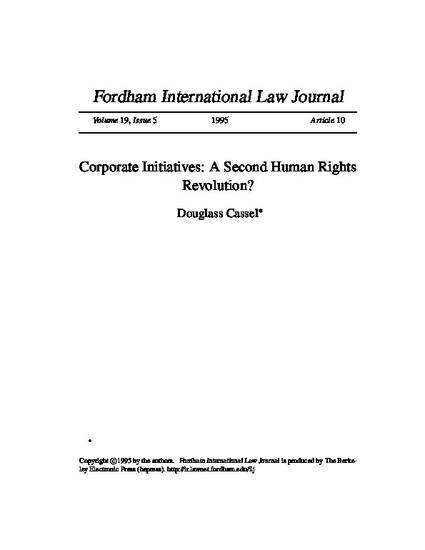 Article
Corporate Initiatives: A Second Human Rights Revolution?
Journal Articles
Publication Date
1-1-1996
Publication Information
19 Fordham Int'l L.J. 1963 (1995)
Abstract
This Essay examines the role of multinational corporations in protecting human rights around the globe. Part I analyzes the conduct of corporations, describes examples of corporations' involvement in human rights violations, and discusses the merits of greater responsibility of corporations. Part II suggests that the level of responsibility for a multinational corporation depends on the proximity of the corporation's operations to human rights violations, in combination with the seriousness of the violations, and proposes five gradations of responsibility. This Essay concludes that the evolving nature of the global economy is producing a shift in responsibilities from government to the private sector, particularly multinational corporations, and that those responsibilities may include the power and duty to safeguard human rights.
Citation Information
Douglass Cassel. "Corporate Initiatives: A Second Human Rights Revolution?" (1996)
Available at: http://works.bepress.com/douglass_cassell/21/