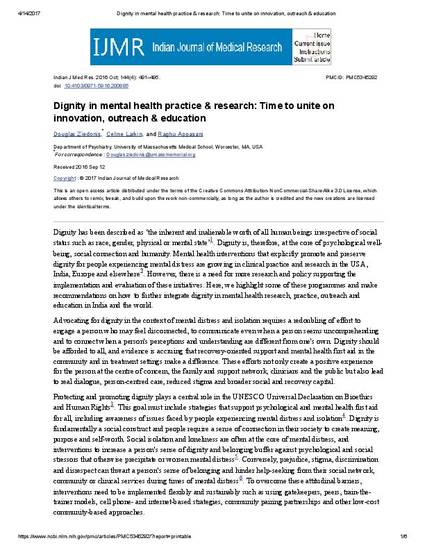 Article
Dignity in mental health practice and research: Time to unite on innovation, outreach and education
Psychiatry Publications and Presentations
UMMS Affiliation
Department of Psychiatry; Systems and Psychosocial Advances Research Center
Publication Date
10-1-2016
Abstract
Dignity has been described as 'the inherent and inalienable worth of all human beings irrespective of social status such as race, gender, physical or mental state. Dignity is, therefore, at the core of psychological well-being, social connection and humanity. Mental health interventions that explicitly promote and preserve dignity for people experiencing mental distress are growing in clinical practice and research in the USA, India, Europe and elsewhere. However, there is a need for more research and policy supporting the implementation and evaluation of these initiatives. Here, we highlight some of these programmes and make recommendations on how to further integrate dignity in mental health research, practice, outreach and education in India and the world.
Rights and Permissions
Copyright : © 2017 Indian Journal of Medical Research.
DOI of Published Version
10.4103/0971-5916.200885
Creative Commons License
Creative Commons Attribution-Noncommercial-Share Alike 3.0
Citation Information
Douglas M. Ziedonis, Celine Larkin and Raghu Appasani. "Dignity in mental health practice and research: Time to unite on innovation, outreach and education" Vol. 144 Iss. 4 (2016) ISSN: 0971-5916 (Linking)
Available at: http://works.bepress.com/douglas_ziedonis/158/