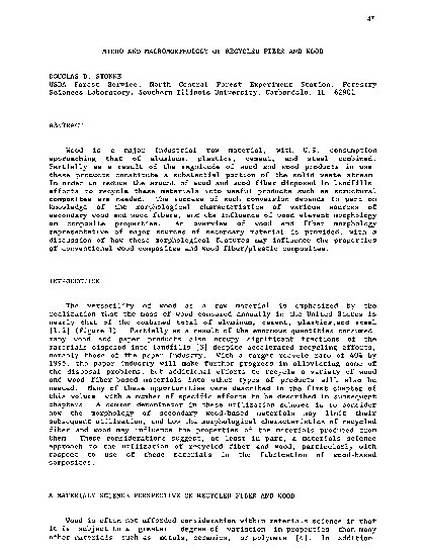 Presentation
Micro and Macromorphology of Recycled Fiber and Wood
MRS Proceedings (1992)
Abstract
Wood is a major industrial raw material, with U.S. consumption approaching that of aluminum, plastics, cement, and steel combined. Partially as a result of the magnitude of wood and wood products in use, these products constitute a substantial portion of the solid waste stream. In order to reduce the amount of wood and wood fiber disposed in landfills, efforts to recycle these materials into useful products such as structural composites are needed. The success of such conversion depends in part on knowledge of the morphological characteristics of various sources of secondary wood and wood fibers, and the influence of wood element morphology on composite properties. An overview of wood and fiber morphology representative of major sources of secondary material is provided, with a discussion of how these morphological features may influence the properties of conventional wood composites and wood fiber/plastic composites.
Keywords
solid waste stream,
recycling,
wood,
wool,
structural composites
Publication Date
Spring 1992
Citation Information
Douglas D. Stokke. "Micro and Macromorphology of Recycled Fiber and Wood"
MRS Proceedings
(1992)
Available at: http://works.bepress.com/douglas_stokke/8/