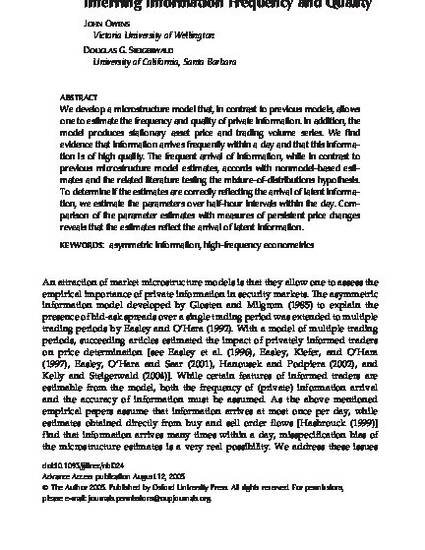 Article
Inferring Information Frequency and Quality
Journal of Financial Econometrics (2005)
Abstract
We develop a microstructure model that, in contrast to previous models, allows one to estimate the frequency and quality of private information. In addition, the model produces stationary asset price and trading volume series. We find evidence that information arrives frequently within a day and that this information is of high quality. The frequent arrival of information, while in contrast to previous microstructure model estimates, accords with nonmodel-based estimates and the related literature testing the mixture-of-distributions hypothesis. To determine if the estimates are correctly reflecting the arrival of latent information, we estimate the parameters over half-hour intervals within the day. Comparison of the parameter estimates with measures of persistent price changes reveals that the estimates reflect the arrival of latent information.
Keywords
asymmetric information,
high-frequency,
market microstructure
Citation Information
Douglas G Steigerwald and John Owens. "Inferring Information Frequency and Quality"
Journal of Financial Econometrics
Vol. 3 Iss. 4 (2005)
Available at: http://works.bepress.com/douglas_steigerwald/5/