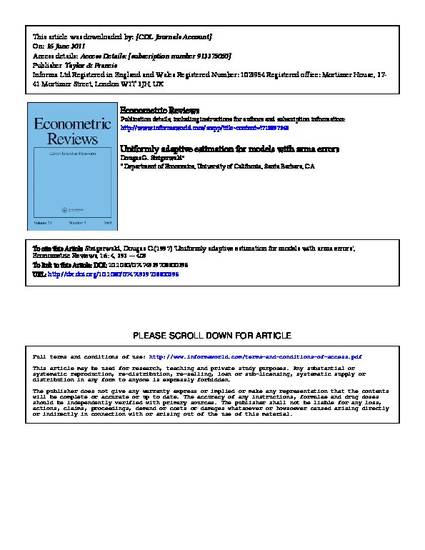 Article
Uniformly Adaptive Estimation for Models with ARMA Errors
Econometric Reviews (1997)
Abstract
A semiparametric estimator based on an unknown density is uniformly adaptive if the expected loss of the estimator converges to the asymptotic expected loss of the maximum likelihood estimator based on the true density (MLE), and if convergence does not depend on either the parameter values or the form of the unknown density. Without uniform adaptivity, the asymptotic expected loss of the MLE need not approximate the expected loss of a semiparamteric estimator for any finite sample. I show that a two-step semiparametric estimator is uniformly adaptive for the parameters of nonlinear regression models with autoregressive moving average errors.
Keywords
adaptive,
ARMA,
semiparametric,
uniform convergence
Citation Information
Douglas G Steigerwald. "Uniformly Adaptive Estimation for Models with ARMA Errors"
Econometric Reviews
Vol. 16 Iss. 4 (1997)
Available at: http://works.bepress.com/douglas_steigerwald/11/