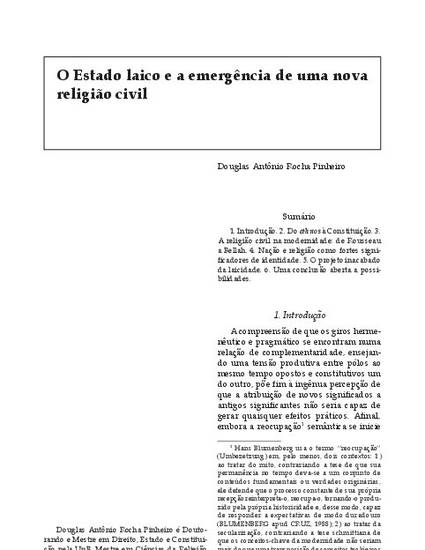 Article
O Estado laico e a emergência de uma nova religião civil
Revista de Informação Legislativa (2012)
Abstract
Re-meaning civil religion, placing it half-way between the local values of a given legal-political community and moral's universal intentions, besides not jeopardizing the conquests of the laical State, can provide solidarity bonds between strangers. Such bonds, submitted to the appraisal of human rights and democracy, may become an opportune substitute to the disbelieved concept of nation, fostering reflexive ethics by means of a discursive rationality.
Citation Information
Douglas Antônio Rocha Pinheiro. "O Estado laico e a emergência de uma nova religião civil"
Revista de Informação Legislativa
Vol. 195 (2012)
Available at: http://works.bepress.com/douglas_pinheiro/5/