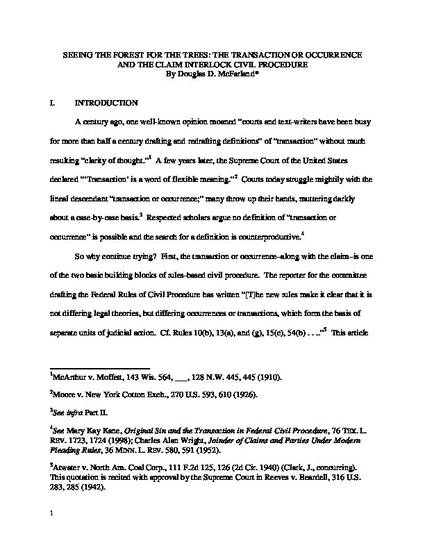 Unpublished Paper
Seeing the Forest for the Trees: The Transaction or Occurrence and the Claim Interlock Civil Procedure
ExpressO (2010)
Abstract
The article traces the transaction or occurrence and the claim through various joinder (cross-claims, permissive joinder of parties, rule 14 claims), pleading (claims, separate counts, relation back of amendments), and interlocutory appeal (54(b))rules to the following conclusion. Since courts have struggled with the proper fact-based definition of claim and transaction or occurrence when they interpret individual rules in individual cases, we should not be surprised that courts and commentators have been reluctant to recognize the commonality of these concepts throughout the rules. "Claim" has been interpreted differently in different contexts. "Transaction or occurrence" has been interpreted differently in different contexts. We should ask why? The words of the rules are the same. The intent behind the rules is the same. The policies of convenience, economy, and efficiency behind the rules are the same. Some courts and commentators recognize that the rules should be interpreted the same. We should recognize the interlocked and unitary system of the federal rules and see the forest for the trees.
Keywords
tranasaction or occurrence,
cross-claim,
claim,
54(b)
Publication Date
August 11, 2010
Citation Information
Douglas D. McFarland. "Seeing the Forest for the Trees: The Transaction or Occurrence and the Claim Interlock Civil Procedure"
ExpressO
(2010)
Available at: http://works.bepress.com/douglas_mcfarland/2/