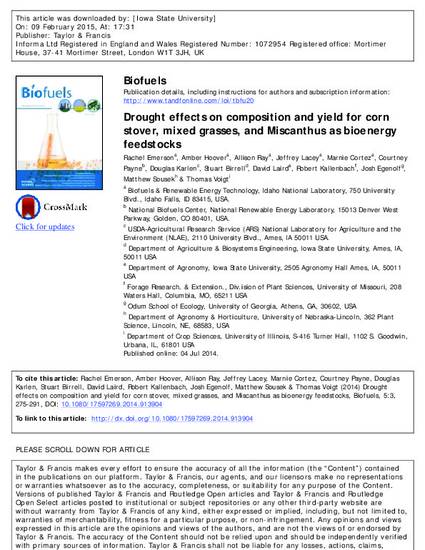 Article
Drought effects on composition and yield for corn stover, mixed grasses, and Miscanthus as bioenergy feedstocks
Biofuels
Publication Date
1-1-2014
DOI
10.1080/17597269.2014.913904
Abstract
Drought conditions in 2012 were some of the most severe in recent history. The purpose of this study is to examine the impact of drought on quality, quantity, and theoretical ethanol yield (TEY) of three bioenergy feedstocks, corn stover, mixed grasses from Conservation Reserve Program lands, and Miscanthus ×giganteus. To assess drought effects on these feedstocks, samples from 2010 (minimal to no drought) and 2012 (severe drought) were compared from multiple locations in the US. In all feedstocks, drought significantly increased extractives and reduced structural sugars and lignin; subsequently, TEYs were reduced 10–15%. Biomass yields were significantly reduced for M. × giganteus and mixed grasses. When reduction in quality and quantity were combined, TEYs decreased 26–59%. Drought negatively affected biomass quality and quantity that resulted in significant TEY reductions. Such fluctuations in biomass quality and yield may have significant consequences for developing lignocellulosic biorefineries.
Rights
This item is authored by federal employees as part of their official duties and are therefore non-copyrightable and/or published by the federal government and now in the public domain.
File Format
application/pdf
Citation Information
Rachel Emerson, Amber Hoover, Allison Ray, Jeffrey Lacey, et al.. "Drought effects on composition and yield for corn stover, mixed grasses, and Miscanthus as bioenergy feedstocks"
Biofuels
Vol. 5 Iss. 3 (2014) p. 275 - 291
Available at: http://works.bepress.com/douglas_karlen/52/