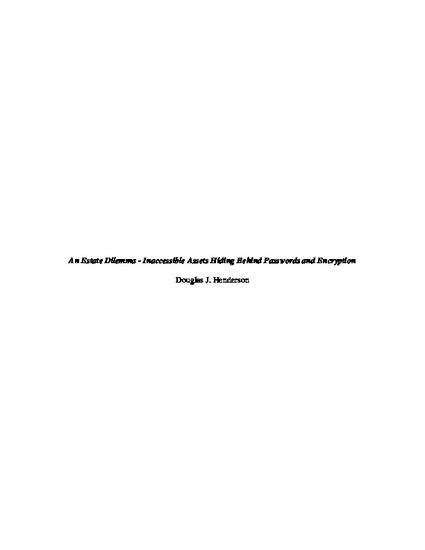 Article
AN ESTATE DILEMMA - INACCESSIBLE ASSETS HIDING BEHIND PASSWORDS AND ENCRYPTION
Informatics Online (2012)
Abstract
Every person living in the modern world holds valuable assets, data, or information in digital mediums. Digital mediums include not only digital hardware storage mediums in personal possession (like external hard drives and internal hard drives within laptop and desktop computers, personal digital assistants, cell phones, and the like), but also those only accessible through a network. Because so much is held in digital mediums, when an individual dies or becomes incapacitated, another person must know how to access the incapacitated person's digital assets and other important information (this person is known herein as the 'Responsible Party'). There are potential barriers to accessing digital data, information, and online accounts, though, such as legal or contractual restrictions, password protection, and encryption. As a consequence, a Responsible Party seeking to properly perform his or her duties must know what to do with password protected and encrypted digital data in a way that 1) does not violate state or federal law, 2) efficiently and effectively gains possession of digital assets, 3) provides proper maintenance for all digital assets and liabilities, and 4) appropriately accumulates, returns, and distributes all assets and other information held behind password protection and encryption.
Keywords
Digital Estate Encryption Assets Incapacitated Executor Responsible Party
Publication Date
Winter December 15, 2012
Citation Information
DOUGLAS J HENDERSON. "AN ESTATE DILEMMA - INACCESSIBLE ASSETS HIDING BEHIND PASSWORDS AND ENCRYPTION"
Informatics Online
(2012)
Available at: http://works.bepress.com/douglas_j_henderson/7/