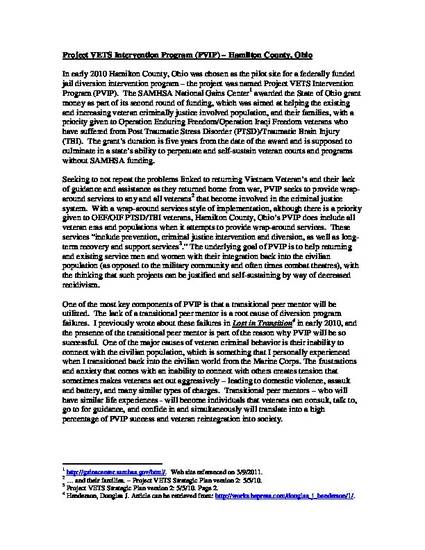 Article
PVIP Transitional Peer Mentors
TBD (2011)
Abstract
Project VETS Intervention Program (PVIP) – Hamilton County, Ohio In early 2010 Hamilton County, Ohio was chosen as the pilot site for a federally funded jail diversion intervention program – the project was named Project VETS Intervention Program (PVIP). The SAMHSA National Gains Center awarded the State of Ohio grant money as part of its second round of funding, which was aimed at helping the existing and increasing veteran criminally justice involved population, and their families, with a priority given to Operation Enduring Freedom/Operation Iraqi Freedom veterans who have suffered from Post Traumatic Stress Disorder (PTSD)/Traumatic Brain Injury (TBI). The grant's duration is five years from the date of the award and is supposed to culminate in a state's ability to perpetuate and self-sustain veteran courts and programs without SAMHSA funding. Seeking to not repeat the problems linked to returning Vietnam Veteran's and their lack of guidance and assistance as they returned home from war, PVIP seeks to provide wrap-around services to any and all veterans that become involved in the criminal justice system. With a wrap-around services style of implementation, although there is a priority given to OEF/OIF PTSD/TBI veterans, Hamilton County, Ohio's PVIP does include all veteran eras and populations when it attempts to provide wrap-around services. These services "include prevention, criminal justice intervention and diversion, as well as long-term recovery and support services ." The underlying goal of PVIP is to help returning and existing service men and women with their integration back into the civilian population (as opposed to the military community and often times combat theatres), with the thinking that such projects can be justified and self-sustaining by way of decreased recidivism. One of the most key components of PVIP is that a transitional peer mentor will be utilized. The lack of a transitional peer mentor is a root cause of diversion program failures. I previously wrote about these failures in Lost in Transition in early 2010, and the presence of the transitional peer mentor is part of the reason why PVIP will be so successful. One of the major causes of veteran criminal behavior is their inability to connect with the civilian population, which is something that I personally experienced when I transitioned back into the civilian world from the Marine Corps. The frustrations and anxiety that comes with an inability to connect with others creates tension that sometimes makes veterans act out aggressively – leading to domestic violence, assault and battery, and many similar types of charges. Transitional peer mentors – who will have similar life experiences - will become individuals that veterans can consult, talk to, go to for guidance, and confide in and simultaneously will translate into a high percentage of PVIP success and veteran reintegration into society.
Keywords
PVIP,
transitional peer mentor,
veteran
Publication Date
Spring March 11, 2011
Citation Information
DOUGLAS J HENDERSON. "PVIP Transitional Peer Mentors"
TBD
(2011)
Available at: http://works.bepress.com/douglas_j_henderson/3/