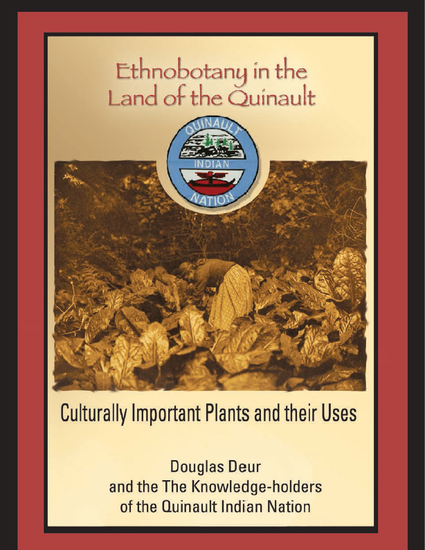 Book
Ethnobotany in the Land of the Quinault: Culturally Important Plants and Their Uses
(2017)
Abstract
On the Pacific coast of Washington state, the Quinault Indian Nation consists of descendants of Native American communities from the northwestern Olympic Peninsula to the northern Oregon coast - including many Chinook, Chehalis, Quileute, Hoh, Tillamook, Clatsop, and others, in addition to Quinault proper. Together, the Quinault continue to hold in-depth knowledge regarding the traditional use of plants for food, materials, medicines, and spiritual uses. Tribal members also recall many practices – from burning to ceremonial interventions – that have helped to sustain culturally significant plant communities. This book provides a summary of the most culturally important plants, their uses, and their traditional management by Quinault people. The outcome of a multi-year community effort to document traditional plant uses, initiated by the Quinault Indian Nation and directed by Douglas Deur, this is written in a guidebook style – for, by, and about the modern Quinault. Plant photos and quotations from contemporary elders accompany entries on plant species from the forests, meadows, riverbanks, and shrubby margins of the Quinault world.
Publisher
Quinault Indian Nation
Citation Information
Douglas Deur. Ethnobotany in the Land of the Quinault: Culturally Important Plants and Their Uses. (Quinault Indian Nation, Taholah WA, 2017). 238 pp.