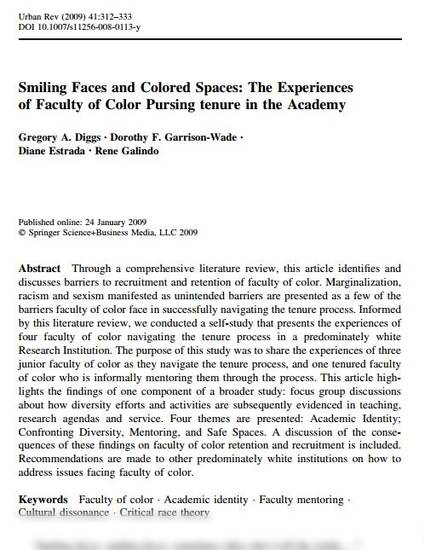 Article
Smiling Faces and Colored Spaces: The Experiences of Faculty of Color Pursing tenure in the Academy
ALPS Faculty Publications
Publication Date
1-24-2009
Abstract
Through a comprehensive literature review, this article identifies and discusses barriers to recruitment and retention of faculty of color. Marginalization, racism and sexism manifested as unintended barriers are presented as a few of the barriers faculty of color face in successfully navigating the tenure process. Informed by this literature review, we conducted a self-study that presents the experiences of four faculty of color navigating the tenure process in a predominately white Research Institution. The purpose of this study was to share the experiences of three junior faculty of color as they navigate the tenure process, and one tenured faculty of color who is informally mentoring them through the process. This article highlights the findings of one component of a broader study: focus group discussions about how diversity efforts and activities are subsequently evidenced in teaching, research agendas and service. Four themes are presented: Academic Identity; Confronting Diversity, Mentoring, and Safe Spaces. A discussion of the consequences of these findings on faculty of color retention and recruitment is included. Recommendations are made to other predominately white institutions on how to address issues facing faculty of color.
Citation Information
Diggs, G., Garrison-Wade, D., Estrada, D. & Galindo, R. Smiling faces and colored spaces: The experiences of faculty of color pursing tenure in the academy, Urban Review, 41(4), 312-333.