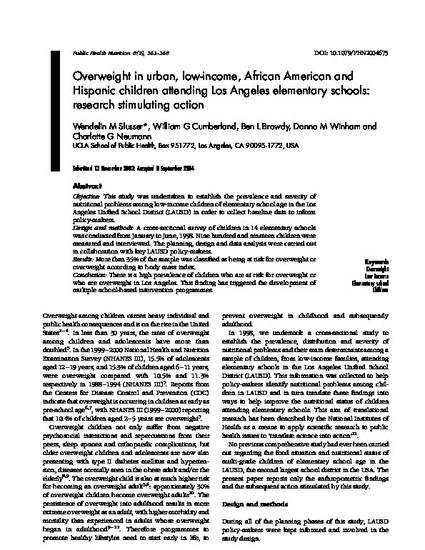 Article
Overweight in urban, low-income, African American and Hispanic children attending Los Angeles elementary schools: research stimulating action
Public Health Nutrition (2004)
Abstract
Objective: This study was undertaken to establish the prevalence and severity of nutritional problems among low-income children of elementary school age in the Los Angeles Unified School District (LAUSD) in order to collect baseline data to inform policy-makers. Design and methods: A cross-sectional survey of children in 14 elementary schools was conducted from January to June, 1998. Nine hundred and nineteen children were measured and interviewed. The planning, design and data analysis were carried out in collaboration with key LAUSD policy-makers. Results: More than 35% of the sample was classified as being at risk for overweight or overweight according to body mass index. Conclusion: There is a high prevalence of children who are at risk for overweight or who are overweight in Los Angeles. This finding has triggered the development of multiple school-based intervention programmes.
Keywords
Overweight,
Low income,
Elementary school,
Children
Publication Date
September 8, 2004
Citation Information
Wendelin M. Slusser, William G. Cumberland, Ben L. Browdy, Donna Winham, et al.. "Overweight in urban, low-income, African American and Hispanic children attending Los Angeles elementary schools: research stimulating action"
Public Health Nutrition
Vol. 8 Iss. 2 (2004)
Available at: http://works.bepress.com/donna_winham/6/