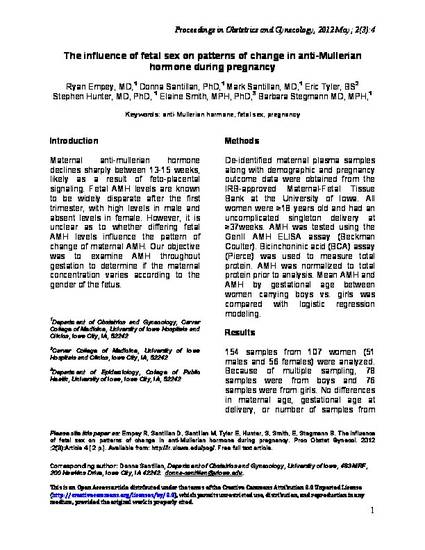 Article
The influence of fetal sex on patterns of change in anti-Mullerian hormone during pregnancy
Proceedings in Obstetrics and Gynecology
DOI
10.17077/2154-4751.1135
Publication Date
7-23-2012
Abstract
Maternal anti-mullerian hormone declines sharply between 13-15 weeks, likely as a result of feto-placental signaling. Fetal AMH levels are known to be widely disparate after the first trimester, with high levels in male and absent levels in female. However, it is unclear as to whether differing fetal AMH levels influence the pattern of change of maternal AMH. Our objective was to examine AMH throughout gestation to determine if the maternal concentration varies according to the gender of the fetus.
Keywords
Anti-Mullerian hormone,
fetal sex,
pregnancy
Rights
Copyright © Ryan Empey, Donna A. Santillan, Mark Santillan, Eric M. Tyler, Stephen K. Hunter, Elaine M. Smith, Barbara J. Stegmann, 2012.
Creative Commons License
Creative Commons Attribution 3.0
Citation Information
Ryan Empey, Donna A. Santillan, Mark Santillan, Eric M. Tyler, et al.. "The influence of fetal sex on patterns of change in anti-Mullerian hormone during pregnancy" Vol. 2 Iss. 3 (2012) p. 1 - 2 ISSN: 2154-4751
Available at: http://works.bepress.com/donna_santillan/7/