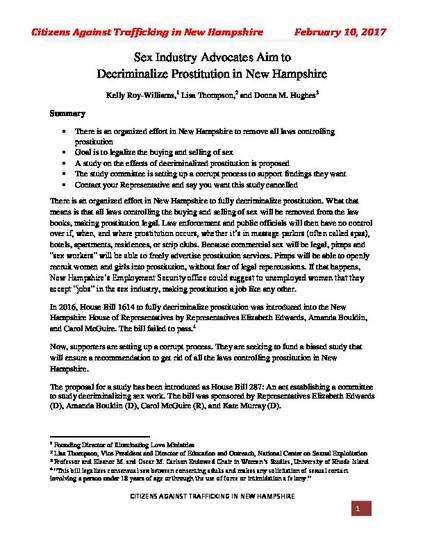 Other
Sex Industry Advocates Aim to Decriminalize Prostitution in New Hampshire
(2017)
Abstract
There is an organized effort in New Hampshire to fully decriminalize prostitution. What that means is that all laws controlling the buying and selling of sex will be removed from the law books, making prostitution legal. Law enforcement and public officials will then have no control over if, when, and where prostitution occurs, whether it's in massage parlors (often called spas), hotels, apartments, residences, or strip clubs. Because commercial sex will be legal, pimps and "sex workers" will be able to freely advertise prostitution services. Pimps will be able to openly recruit women and girls into prostitution, without fear of legal repercussions. If that happens, New Hampshire's Employment Security office could suggest to unemployed women that they accept "jobs" in the sex industry, making it will be a job like any other. 
Keywords
decriminalized prostitution,
law,
prostitution,
New Hampshire,
violence,
slavery,
human trafficking,
sex trafficking,
legislation
Publication Date
February 10, 2017
Citation Information
Roy-Williams, Kelly, Thompson, Lisa, Hughes, Donna M. (2017, February 10). Sex industry advocates aim to decriminalize prostitution in New Hampshire. Citizens Against Trafficking in New Hampshire.
Creative Commons license
This work is licensed under a Creative Commons CC_BY-NC-ND International License.