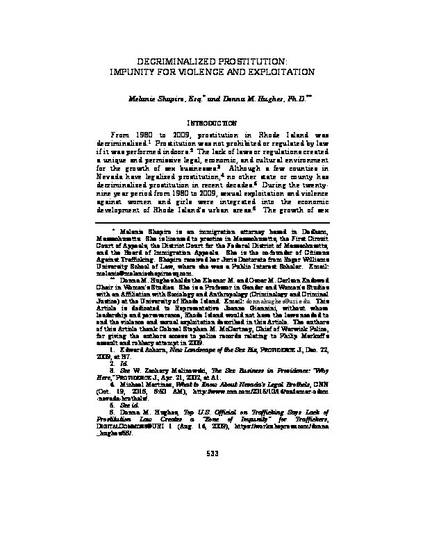 Article
Decriminalized Prostitution: Impunity for Violence and Exploitation
Wake Forest Law Review (2017)
Abstract
This paper is a case study of decriminalized prostitution. For 29 years (1980 to 2009) prostitution was decriminalized in Rhode Island. Lack of laws or regulations created a permissive legal, economic and cultural environment for the growth of sex businesses. During this time, sexual exploitation and violence against women and girls were integrated into the economic development of urban areas. The number of sex businesses grew rapidly during this time period. Organized crime groups operated brothels and extorted money from adult entertainment businesses. Rhode Island became a destination for pimps, traffickers, and other violent criminals. The lack of laws impeded police from investigating serious crimes. 
Keywords
decriminalized prostitution,
Rhode Island,
violence,
sexual exploitation,
economic development,
sex trafficking
Citation Information
Shapiro, Melanie & Hughes, Donna M. (2017). Decriminalized prostitution: Impunity for violence and exploitation. Wake Forest Law Review. 52: 533-560.
Creative Commons license
This work is licensed under a Creative Commons CC_BY-NC-ND International License.